There are several ways to open, find or start the Computer Management in Windows 8/10. Here are
four methods to open the Computer Management

in Windows-8, 8.1 and Windows 10.



1.) # Methode-1 Open the Computer Management in Windows 8 with key [Win-Logo]+[R] eg RUN (command) - Window!

Start "RUN" in Windows-8 with keys [Win-Logo]+[R] and type in »(Edit-Box) "compmgmt.msc" and press [ENTER] to RUN the "Computer Management" in Windows-8. (see Image-1) and (see Image-2)



Image-1: Open/Start the Computer Management in Windows 8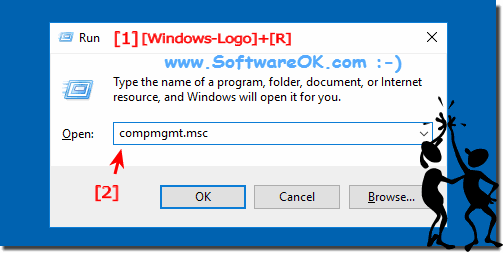 2.) # Methode-2 Launch Computer Management via start menu in Win-8!

PS: for this you have to activate the Start Menu in Windows-8. See here: ... activate Windows 8 Start Menu

»

"Start", » »

"Control Panel", »

"Administrative Tools", » »

"Computer Management"
That's it!

Read this: ►  Control Panel on Desktop in Windows 10



Image-2: Start the Computer-Management in Windows 8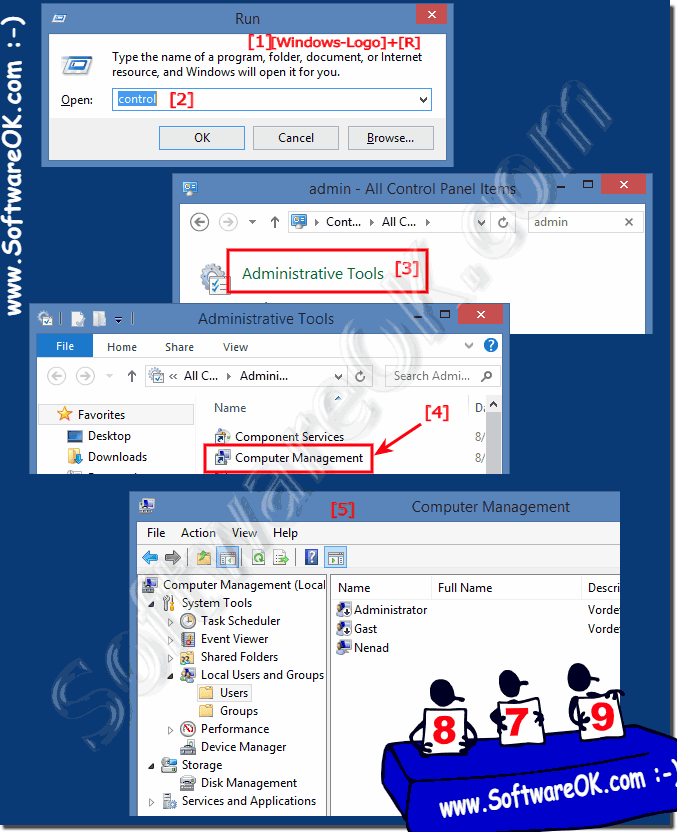 The management console is the main Windows software tool with which you can configure the system and monitor its operation. For this purpose, snap-in are used-small program modules that control various Windows settings.

3.) # Methode-3 Launch Computer-Management via key [Win-Logo]+[X]!


Press the key combination [Win-Logo]+[X], here simply click on "Computer-Management" (... see Image Arrow-1) and open directly "Computer-Management (... see Image).


Tip: To access the remote computer management, right-click the Computer Management icon in the left part of the console window and in the All Tasks section select the Connect to another computer item. Click Browse and in the Select: Computer window specify the user name or network name of the computer you want to access.

4.) # Methode-4 Desktop Shortcut to get the computer management on windows 8!



Press the key combination [Win-Logo]+[D] to see the Windows-8 Desktop.
Click the right mouse button on an empty (free) space on the Windows-8 Desktop
In right click context menu, select New Shortcut
Then in the called input box simply enter the text: compmgmt.msc
Then just follow the link name, this would be a "Computer-Management" or "PC" attached as a link name;).
Tip:
The file compmgmt.msc is located in the folder C:\Windows\system32. You can find it using the Find command in the Start menu. In the drop-down menu, select the Files and Folders section, go to the corresponding link in the left part of the windows and enter the name of the compmgmt.msc file in the corresponding field.




(Image-4) Find Computer Management in Windows 8.1 or 10!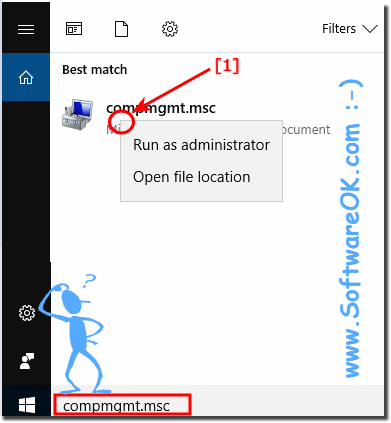 5.) # Computer management in Windows 10 via settings!

1. Please open the Windows 10 settings  simply Windows-Logo + I  and enter the text "tools".

2. And select Administrative Tools

3. And start the click on the Computer Management



(Image-5) Computer-Management in Windows 10!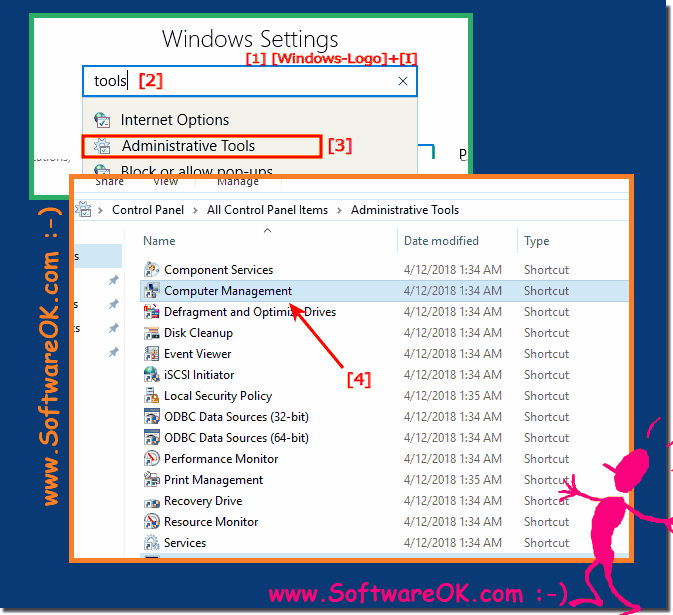 FAQ 10: Updated on: 15 July 2020 20:48