The Windows 8.1 Desktop Search is slightly different to the Windows 8 Search and more user friendly, this also appears on the Windows 8.1 desktop!


To access the Windows Search 8.1, you simply press the key combination [Windows + S], then enter in the search box what you need. In this example the "CM" and in the Windows-8.1 search prompt appears the cmd.exe (... see Image-1 Arrow-1).

If you want to select one of the other results, use the arrow keys [Down] and [Up] to highlight the next result, or select (... see Image-1 Arrow-2).

With the key combination [Shift + Ctrl] + [ENTER] the program will be started in the administrative mode!
By simple confirmation with [ENTER] is a normal program startup.

Important: Choose "Everywhere" (... see Image-1 Arrow-3)  should be when looking everywhere for the search option.



Image-1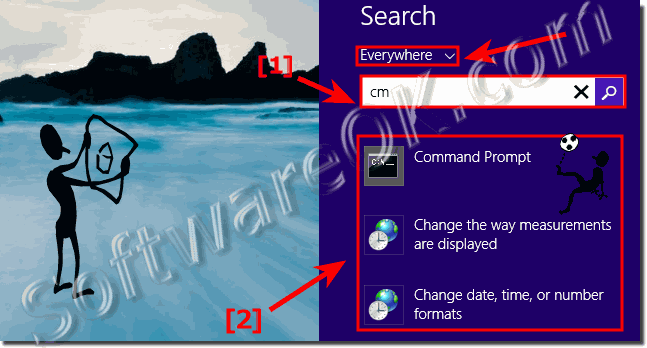 Use the Windows 8.1 Desktop Search to start programs and apps or open documents!

FAQ 127: Updated on: 25 September 2018 00:09