The solution is simple to create an Explorer Search shortcut on the desktop in Windows 8.1/8 or Windows 10!


If you do a lot of searching in Windows 8.1 MS-Explorer, easy create a Shortcut for Search on the Windows 8.1 Desktop!

Please use [Windows+D] keyboard Shortcut to see the Windows Desktop.

Use right  mouse click on empty space on the Desktop and select New, Shortcut!
For command use %windir%\explorer.exe search-ms: and as name for example PC-Search! (... see Image-1 Arrow-1)

Via right mouse click on PC-Search Desktop Icon (... see Image-1 Arrow-1) ,
pin to Windows 8.1 start or Taskbar (... see Image-1 Arrow-2)

Download: .... Desktop Shortcut for Search in Windows 8.1!
See also: ... Print or export search result data list from Explorer in 8.1!



(Image-1) MS-Explorer Search shortcut on the desktop in Windows 8.1!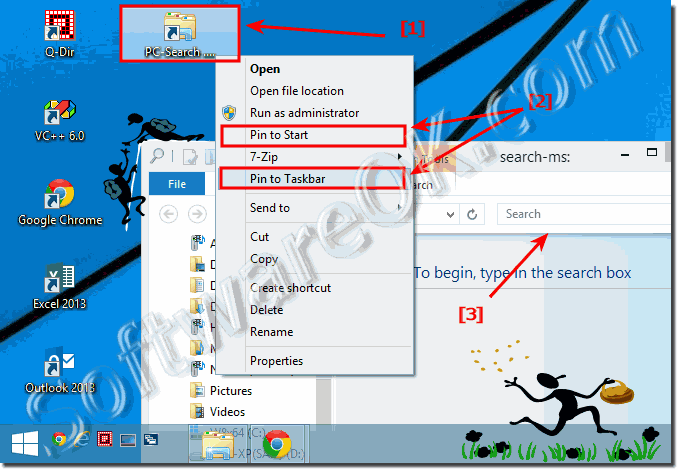 The Windows 8.1 Search box
Enter a phrase, word, or char in the Windows search box to look for an item in the current folder in Windows 8.1. The search begins as soon as you begin typing, so if you enter "Windows," for example, all the files with names starting with the letter Windows will appear in the file list.

Important info (c) Microsoft


Depending on how many files you have and how they're organized, it might be a lot of work to always browse to each particular file you need. To save time and effort, use the search box to search for files.




The search box is located at the top of every window. To search for a file, open a folder as a starting point for your search, tap or click the search box, and start entering your search term. The search box filters the current view based on the text that you enter. Files are displayed as search results if your search term matches the file's name, tags or other properties, or even the text inside a document.

FAQ 172: Updated on: 25 September 2018 00:05