It´s easy to view and
delete partitions on Windows

8 and on new Windows 8.1 / 10, the example how to!

Content:


1.) To view and delete partitions via Windows X Menu!
Image-1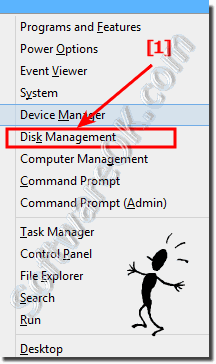 Disk Management Windows-8



To view and delete partitions on Windows please open the
Windows-8 Disk Management
See: ... the Disk-Management in Windows 8!

1. Hot-key [Win+X] and click Disk Management (see Image-1 Arrow-1)

2. In the Windows-8 Disk Management you can delete the partitions via mouse right-click on the partition (see Image-2 Arrow 1),

3. Over the Action menu (see Image-2 Arrow-2) you can for example: creating a VHD disks or Attach a VHD!  






Easy to see hdd partitions on windows 8 or to check hard drive partitions, delete hard disk drive, with the internal partition viewer on all windows OS!

Tip: You can also remove windows hard disk partition!



Image-1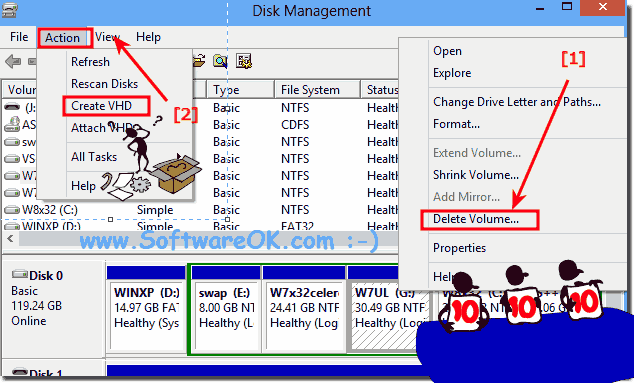 View and delete on Windows 8 partitions
Infos from Microsoft(c):
You can decrease the space that is used by primary partitions and logical drives by shrinking them into adjacent, contiguous space on the same hard disk drive. For example, if you discover that you need an additional partition, but you do not have additional disks, you can shrink the existing partition from the end of the volume to create new unallocated space that can then be used for a new partition.
2.) Start Management via Windows R command!
Optional use Windows+R Key and diskmgmt.msc command (... see Image-3 Point 1 to 3)




(Image-3) View and delete partitions on Windows 8.1 / 10, how to  ?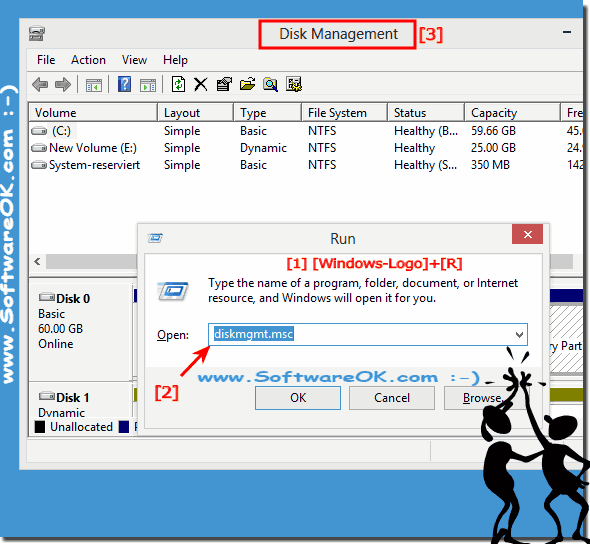 Info:
This screenshot has been snipped under Windows 8.1. However, you can use this solution to find and delete partitions on Windows 8.1 or 10 without disadvantages also for earlier Microsoft's Windows operating systems whether it's a Home Windows desktop Computer, to go on tablet-PC Surface Pro and Go, or even a business server operating system. It has been tested on most all MS OS and successfully
verified
.  

3.) ... More information about partitions and the like on MS Windows OS!


Drives and partitions are of great importance, especially when there are several internal or external hard drives or USB sticks, so it is all the more important to recognize them correctly and format them correctly!







FAQ 86: Updated on: 16 June 2022 07:59