If you don't need the flight mode, you can simply deactivate it completely with a small registry intervention, the airplane mode under Windows is permanently deactivated!




 

Content:

1.) Reg Edit and deactivate Airplane Mode on Windows!
1. Start the Windows Registry Editor 

2. Via the registry key:  HKEY_LOCAL_MACHINE\SYSTEM\CurrentControlSet\Services\RmSvc

3. Set the  DWORD value  Start to 4



After restarting Windows 11, 10, ... the airplane mode can no longer be deactivated. Very handy if you don't need airplane mode and don't want it to be activated accidentally! 

 

(Image-1) Completely disable airplane mode in Windows 11, 10, ...!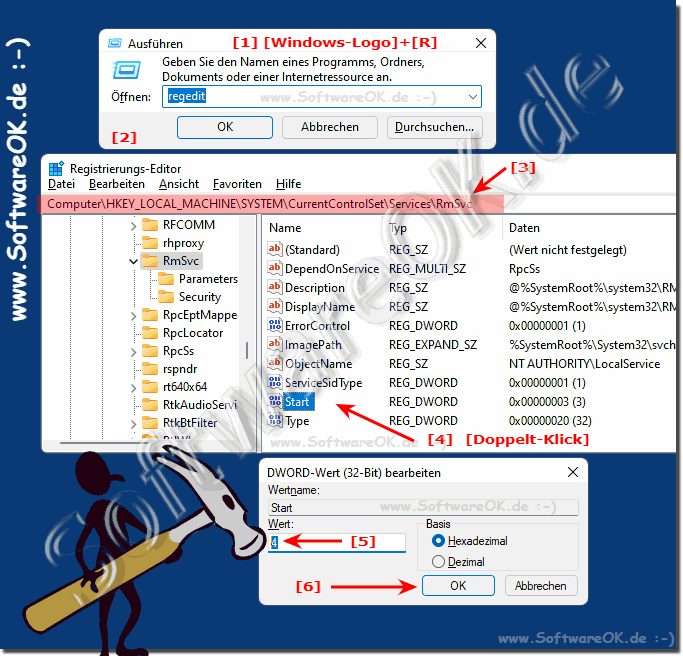 2.) Advantages and disadvantages of airplane mode on Windows!

The decision whether to turn off airplane mode depends entirely on your individual needs and priorities. If you want to ensure safety and freedom from radio interference on board an aircraft, airplane mode is recommended. However, if you need Wi-Fi, Bluetooth, and other wireless connections or want to extend your device's battery life, you can turn off Airplane Mode entirely.



 

Benefits:

- Airplane mode is a safety feature that prevents radio interference between electronic devices and aircraft controls.
- Airplane mode can help extend your device's battery life.
- Airplane mode can help reduce distractions during flight.

Cons:

- Airplane mode may cause you to miss important calls or messages.
- Airplane mode may prevent you from accessing certain features of your device, such as: B. via WLAN or Bluetooth.
- Airplane mode may cause your device to stop working on airplanes.

Disable airplane mode completely:

Advantages:

- You can use Wi-Fi, Bluetooth and other wireless connections as usual.
- You can access all features of your device.

Disadvantages:

- They cannot prevent radio interference between electronic devices and the aircraft controls.
- You cannot extend your device's battery life.
- Distractions during the flight cannot be reduced.
- You may miss important calls or messages.




If you turn off Airplane Mode completely, you should take the following precautions:

Turn off your device when you are near sensitive electronic devices.
Do not use your device during takeoff and landing. Check with your airline about their rules regarding the use of electronic devices on board.





FAQ 3: Updated on: 23 October 2023 13:04