To Safely remove USB drives via a Windows 8 and 10 desktop shortcut, solution is also for MS Server OS!




The solution is simple to safely remove USB drives, and is also suitable for Windows Server 2016/2012, this is the Question of many Window User and hear is the answer for this very important Question for newest Microsoft's  windows operating systems!   



Please use the Windows 8 Shortcut [Windows + D] to see the Windows-8 Desktop (see Image-1).

And then, as explained in the FAQ-89: ... Windows 8 desktop shortcut create a new desktop shortcut.

Use the command: RunDll32.exe shell32.dll,Control_RunDLL hotplug.dll [see Image-1 Arrow 1]

and as shortcut name for example Remove Hardware [see Image-1 Arrow 3].

You can also add (pin) the command Remove Hardware  the Task-Bar [... see image 2 Arrow-1].

Or remove storage via Windows tray icon [... see image 3 Arrow-1,2,3].

This solution is also for Windows-Server 2016 and 2012!



Image-1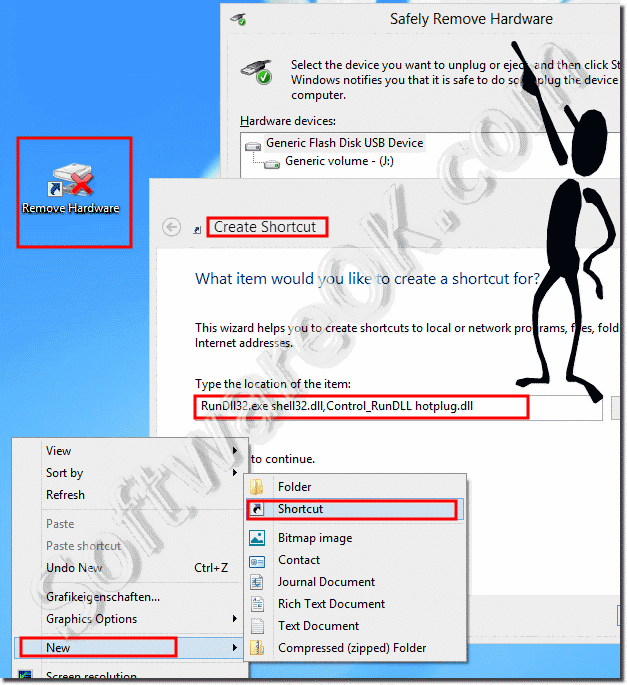 Safely remove USB drives via a Windows 8 desktop shortcut!
Image-2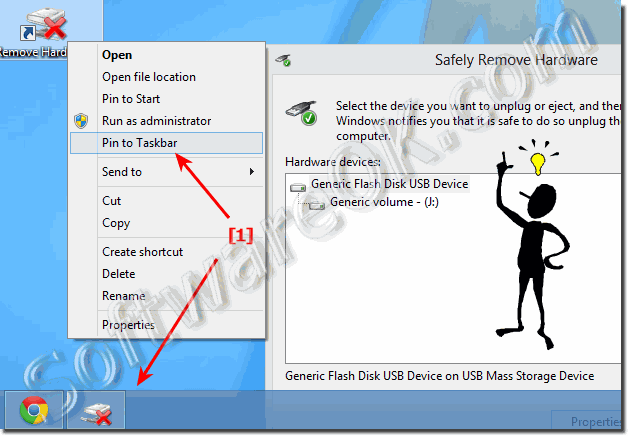 Pin the command Remove Hardware to the Windows-8 Taskbar


Select the device you want to unplug or eject, and then click Stop. When Windows notifies you that it is safe to do so unplug the device from your computer.




Image-3
remove storage via Windows-8 tray icon
Safe removal of the USB drive is important!



For some, it is believed that it is important to use the "Safely Remove Device" feature before removing flash drives from the USB port. For older operating systems, this is necessary to avoid damaging the flash memory. In fact, there is nothing wrong with disconnecting a USB drive without using the dialog box. But you should not do this during the data transfer .

When removing a USB drive from the corresponding USB port of a Windows computer, it is important to understand one thing. Safely removing the USB flash drive in Windows or any other system (Linux, MAC, Android) is the standard way to shut down the USB PORT. In this case, all processes connected to the device are stopped and the power supply is interrupted. Thus, the drive can be protected from the occurrence of many problems.

FAQ 90: Updated on: 12 May 2020 20:15