It's easy to change Windows 11, 10, ... or MS Server time zone via Terminal, PowerShell, command prompt!
Changing the Windows time zone is sometimes faster via the command line than with
the standard Windows time zone adjustment
and makes more sense than having to click through several windows under Windows. It is possible with the Microsoft date and time tool, but those who like to work with the keyboard will probably find this function very useful. This is not only possible under Windows 11, 10, 8.1, ... No! It is also often used by administrators, especially on Windows Server 2022, 2019, ....
Content:
1.) The solution to change Windows time zone via console / PowerShell!
1. Start the
command prompt
or start PowerShell << In admin mode, please
2. Type the following command, tzutil /g
(to confirm the current time zone and press enter)
3. Enter the following command tzutil /l , make a note of the time zone
(in this case "W. Europe Standard Time")

4. Set the new time zone - command: tzutil /s "W. Europe Standard Time"




(Image-1) Change MS Windows 11, 10, ... OS time zone via console / Powershell!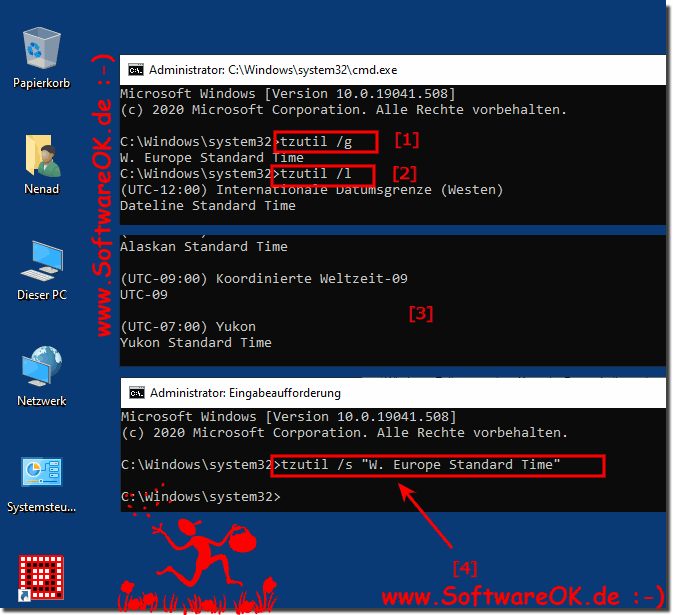 2.) What is the advantage of the time zone change solution over other options!

Using PowerShell or the Command Prompt (Console) to change the time zone in Windows offers a few advantages over other options:

Speed ​​and Immediacy: Changing the time zone via the console or PowerShell allows for quick and direct adjustment without navigating the operating system UI must become. This can be particularly useful if you need to manage multiple systems.

Automation capability: The console and PowerShell enable tasks to be automated. This means you can create scripts to perform time zone changes on multiple computers in your organization or network at the same time.

Security and control: Administrator rights are typically required to use the console or PowerShell. This means you have control over time zone changes and can ensure they are only made by authorized people.

Scalability: This method is highly scalable and is suitable for both home use and corporate environments. You can use the same commands to make time zone changes on a single workstation or on hundreds of computers.

Error prevention: If you know the exact name of the desired time zone, using the console or PowerShell reduces the risk of errors compared to changing it manually via the interface.



There are also other methods to change the time zone in Windows, such as: B. via the Control Panel or the Settings app. These methods are often easier to use, but require more steps and may be more suitable for users who are unfamiliar with the console or PowerShell. The choice of method depends on individual requirements and preferences.





FAQ 100: Updated on: 26 October 2023 10:42