When connecting to a new Wi-Fi comes the choice of connecting to a public or private network, but what for and why?


Basically it's about trustworthy networks and security, data exchange, releases on all Microsoft Windows 11, 10, ... desktop operating systems!
     


Contents:
1.) Public or a private network?
If you select Public, Windows ensures that your PC is not discoverable on the network. It also disables file and printer sharing features so other devices on the network don't use these options for your computer. You should use the public profile for the networks that are usually found at airports, cafes, restaurants,...
On the other hand, if you opt for the private profile / network, MS Windows enables your PC to also be recognized in the network. You can also use file and printer sharing features using this profile. The private profile should only be used with trustworthy networks, i.e. at home or with friends where data exchange between the PCs is required.
With Windows + R command:
ms-settings:network-wifisettings
or 
ms-settings:network-wifi
you can adjust this option at any time!
(Image-1) Difference between public and private network!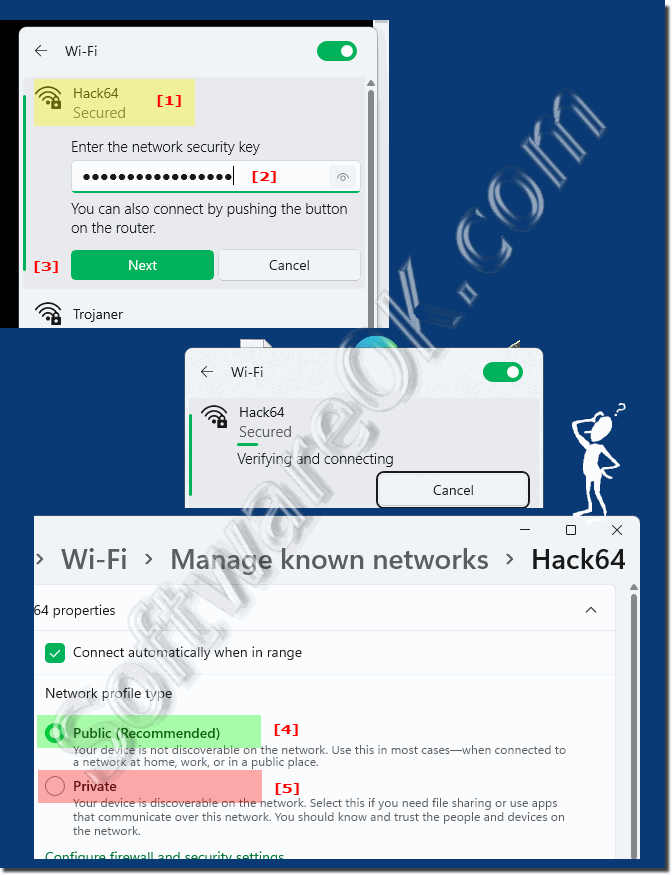 2.) Further tips on network, security and Co. on MS Windows!
When you first connect your PC to a wireless network, Windows will always ask you if you want to treat the network as public or private, which makes a lot of sense too. Here you will find other helpful tips related to Windows networks that could help you more or less.  
PS: With the command 
netsh wlan delete profile *
you can delete all Wi-Fi profiles! 
Why not when it's that simple.
FAQ 14: Updated on: 20 July 2022 16:41