The solution is very easy to disable the bitlocker, it works pretty fast in Windows-10!
The Bitlocker drive encryption is in Windows-10 for internal drives, as well as external removable drives responsible, an encrypted drive can be unlocked with a password. You can also set the drive to unlock automatically when you log in to the computer.
In the
Win-10 system control
you can find the BitLocker! (
... see Image-1
) 
(Image-1) Bitlocker in Control on Windows-10!


Or please press the keyboard shortcut [Windows Logo] + [R] , then just enter the command
control.exe /name Microsoft.BitLockerDriveEncryption
In bit-locker unlock the corresponding drive: (
... see Image-2
) 
(Image-2) Unlock the Drive!

Info: To use Windows 10 BitLocker Drive Encryption, the computer or notebook must meet certain hardware requirements. The requirements vary depending on the type of drive to be encrypted. 

Enter the Password to unlock the Drive (
... see Image-3
)
(Image-3) Unlock Bitlocker on Windows-10!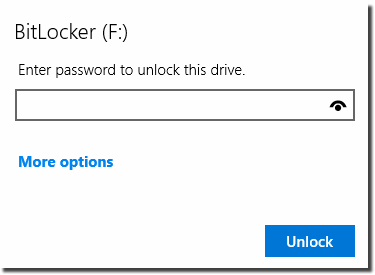 Information about   To-Go encryption .  You can use the BitLocker To Go to encrypt removable media as well as external hard drives and USB flash drives. If you encrypt the data drive, it must be formatted with the exFAT, FAT16, FAT32, or NTFS file system and at least 64 MB of space.  

Now simply disable the bitlocker! 
(Image-4) Disable Bitlocker for a drive!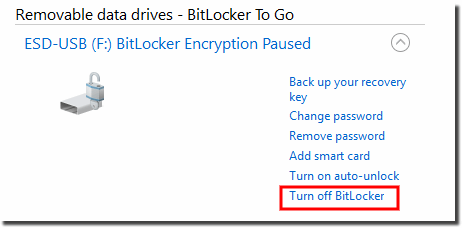 This fairly simple example to disable the Windows Bit Locker is also suitable for earlier versions of Windows, as well as Windows 8.1 and 7.