Is so easy use the Reboot Delete File Ex or Reboot Move File Ex commands in a c++ Microsoft Visual Studio Tool for free!

You do not need programming skills to easy execute this task, is also for no Empty Folders on all Windows OS, The elegant solution is not written only for Windows 10. As you can see at the bottom on the Windows 10 screenshot, recognize it is quite simple to delete or move file and folder on all Windows OS based on NT. You can easily use this simple and fast delete or move file and folder at reboot solution on older versions of Microsoft's Windows operating systems, whether it's a Home or Office Windows desktop PC, mobile tablet, Surface Pro / Go, or even a server operating system.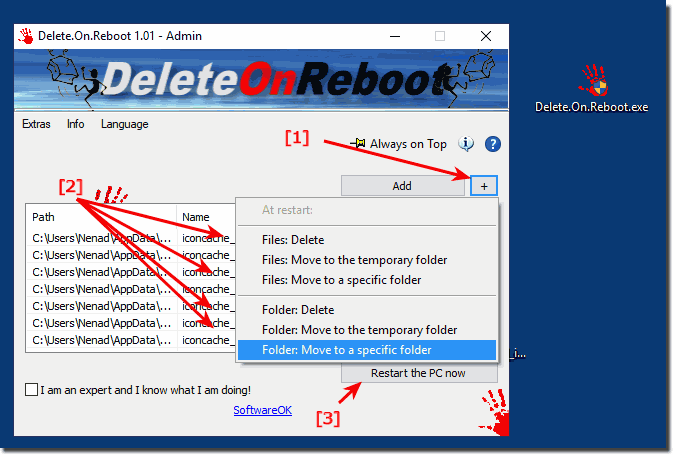 The Problem with no Empty Directories and Folders not exist: 

Info (c) Microsoft!

Because the actual move and deletion operations specified with the MOVEFILE_DELAY_UNTIL_REBOOT flag take place after the calling application has ceased running, the return value cannot reflect success or failure in moving or deleting the file. Rather, it reflects success or failure in placing the appropriate entries into the registry.

The system deletes a directory that is tagged for deletion with the MOVEFILE_DELAY_UNTIL_REBOOT flag only if it is empty. To ensure deletion of directories, move or delete all files from the directory before attempting to delete it. Files may be in the directory at boot time, but they must be deleted or moved before the system can delete the directory.