From Desktop OK Ver.
5.65 makes it easier to access protected folders!
Many users have problems working with DesktopOK when 
the Windows 10 folder protection is
 active, especially
when you want to save DOK files
, when the Defender is enabled real-time protection, since folder protection is quite annoying which usually only prevents normal desktop programs from working. 


PS: Many classic programs become useless and you have to search the APPs in MS Store for a program that gets full access to your computer including personal data.


Grant DesktopOK access to Protected Folders on Windows 10! 
1. Start the
DesktopOK
2. Via Menu > Options > System >  (
... see Image-1 Point 1 and 2
)
Thus one must  make ► 
the standard Windows 10 folder protection procedure
!
PS: Real-time protection is at the same time real-time monitoring of all their activities, over pro contra can be discussed privacy or security that is the question! 
(Image-1) Desktop OK grant access to Defender Folder Protection W10!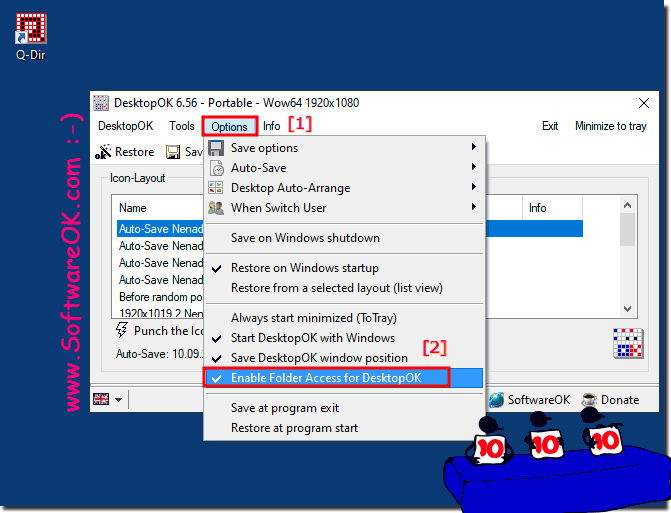 Disable and turn on controlled folder access in Windows 10 from case Creators Update is a new security feature that more or less protects your files and folders from ransomware.
... the steps to activate ransomware are described here
.
W10 Controlled Folder Access is primarily intended to prevent ransomware from encrypting your data, but also protects files from being altered by other normal programs.
It is a logon feature, and when enabled, intelligently tracks the apps, programs, scripts and DLLs that attempt to make changes to files in the protected folders by using a mechanism.
Regardless of whether the program is malicious or not, it will not recognize the function in real time and will alert you to the suspicious activity. If so, many programs will become unusable.