It is easy to automatically shut down the PC when the network load is low, or to put it into standby on MS Windows 11, 11, etc. OS!
Even if
the Windows tool Don't Sleep was
 developed to prevent the PC from going into standby mode or hibernation during runtime, it can also be set up so that it behaves based on the network load in order to put the PC in put to sleep or shut down completely!
Content:
1.) If the network load is low, shut down Windows 11, 10, ...or ...!
2. And set the appropriate options!
(
... see Image-1 Point 1 to 4
)
PS:
It is very practical, especially for larger downloads from the Internet, that the PC goes to sleep, or is actually put to sleep after the download has been completed, or switched off completely and at the same time does not go into standby during the download. If you consider this, for example, via the standard deactivation of the 
Windows energy options
, then the Windows PC will continue to run the entire time, even if this is no longer necessary because the download is complete.
(Image-1) If the network load is low, shut down the PC or put into standby!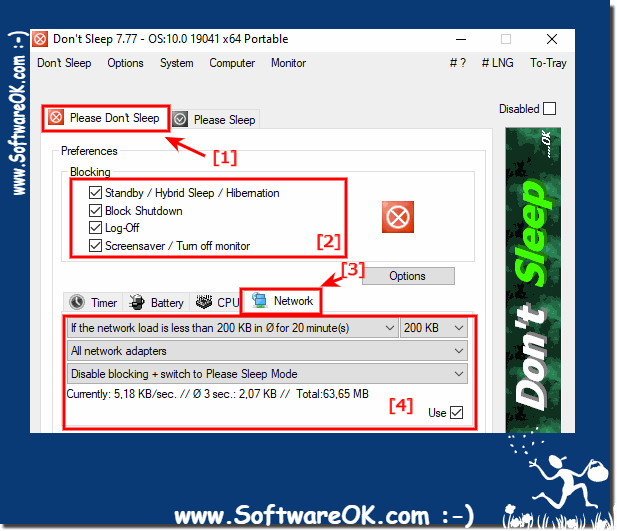 The network load-based behavior to put the computer to sleep or shut down completely when the network load is low works on --- OS_Windows6.1S --- You can use this simple and fast network load solution without any problems on older versions of Microsoft's Windows operating systems, regardless whether it is a Windows desktop, tablet, Surface Pro / Go, or even a server operating system.
2.) Options for the network load based behavior!
For network load, you can set the time and the amount of data per second that should not be exceeded for a certain time, on average, if that's the case, you can select that option, what to do with the PC. (
... see picture -2
)
If the network
load falls below
the computer:
Exit = Quit the program
Exit and stop blocking
Exit and Shutdown
Exit and aggressive Shutdown
Exit and Standby/Hibernation
Disable blocking
Disable blocking + Standby
Disable blocking + Hibernate
Disable blocking + switch to Please Sleep Mode
Exit and Force Restart
Exit and Restart
Exit and Force Logoff
Exit and Logoff
Log Off
Hibernate
Standby  
(Image-3) Network load and the behavior after falling below!