You can every time and very simple enable or disable the Internet Explorer 11 on all Windows Desktop and Server!

If Internet Explorer can be completely removed from Windows, this is a frequently asked question. Internet Explorer can be easily deactivated because some components are connected to the system. You should not try to uninstall it, but you can deactivate it fairly quickly and the associated services!


Easy do a Enable or Disable is same as a uninstall or install of IE on Windows 10, 8.1...!
1. Please start the program and features in Windows 10

2. scroll down to the Internet Explorer 11.

It goes through the Windows Run dialog (Windows + R key combination)

In the Windows 10 Features you can now disable the Internet Explorer 11 (IE11)

(... see Image-2 Point 1 to 4)




(Image-1) Enable and disable Internet Explorer-11 in Windows!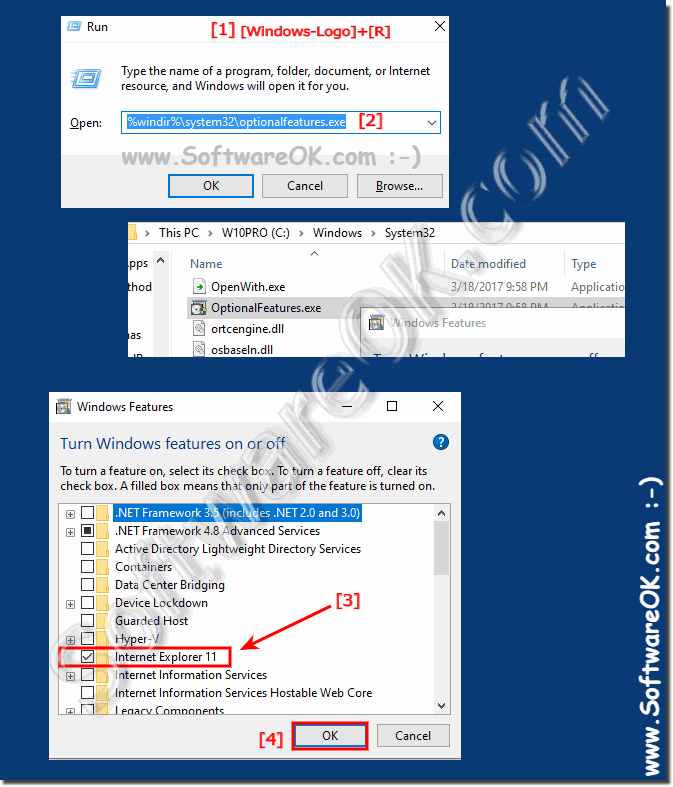 After installing a new Microsoft Windows 10 operating system, many ask where the old IE browser is, or how to download Internet Explorer for Windows 10. Although there is a new Microsoft Edge browser in Windows 10 , the old standard browser can also be useful: Because there are still some situations where the websites do not work in other browsers, especially old websites are not displayed correctly in new browsers.



Info:

This FAQ describes how to activate or deactivate Internet Explorer in Windows 10, how to activate IE 11 in Windows components, or, if this method does not work, manually install Internet Explorer in Windows 10 by ► 

Download IE11 from the MS website

!

See also:






FAQ 198: Updated on: 5 June 2020 13:08