The pixel query tool for Windows 11, 10, ... is an important function that can be used free of charge!
Some graphics programs fail to integrate this important function as well as in
MS-Paint
 or it is too complex and it is not a standard function on Windows operating systems . This nice tool for Windows was created on a
Windows user
request, it is exactly the right tool for querying the color values
RGB, RGBA, HLS
, .... on all Microsoft Windows operating systems!
1. Simply
download the pixel query program
!
2. And start with the 
pixel query
Please use ►  
... always the latest version of GetPixelColor
!
(Image-1) The desktop pixel query tool for Windows!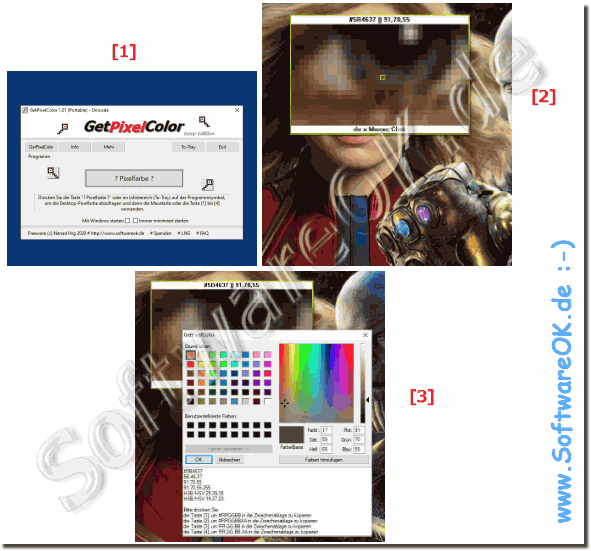 Info:

The zoom window shows the X and Y values ​​of the desktop coordinates of the mouse cursor. The current color that the mouse cursor is on is displayed as RGB-HTML. In the zoom window, the mouse cursor can also be controlled by moving the mouse left, right, up, down, so that you can easily select any pixel. The current pixel color value can be displayed system-wide with the changeable mouse button or copied to the clipboard. One click closes the zoom window.