Not only with Canon and HP there are problems for older printers / scanners under Windows 11 or 10 that there are no official drivers!

You can, however, look for a driver for Window 7 / 8 / 8.1 that will work on Windows 10 / 11, but are not officially licensed on Windows 10 / 11. However, you can easily and without hesitation also apply it to new versions of Microsoft's Windows operating systems Whether it's a Windows desktop, tablet, Surface Pro / Go, or even a server operating system. Important! Look around for the right 32 or 64 bit version!


This issue is often associated with WinScan2PDF, especially the large Windows 10 update.
and it affects the TWAIN and or Windows WIA interface and  no scanner will decide in the program.


(Picture-1) Scan the documents directly and save them as PDF!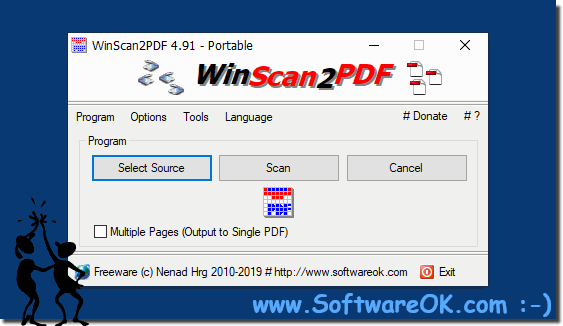 User Message:
Part 1:
I have a few days a new HP laptop.
WIN 10 Pro Vers. 10.0.18362 Build 18362 On my Tekstor Tablet the program ran flawlessly under Windows 10 Home.
On my HP, neither the Twain drivers nor the WIA drivers are loaded by the program.
The multi-printer is a Canon MP170

Part 2:
The problem with their software has been resolved to the Canon offers for older printers under WIN10 no printer driver.
I've just tried a few drivers for my MP170 under WIN7 until I found it.
Unfortunately, I have to say that here Canon can leave its buyers in the rain in terms of older printers;
they just want to sell.
OK, I managed to get your software up and running and I am very happy with the result.
Keep it up