The recycle bin under Windows takes up storage space because it is a folder that serves as temporary storage space until it is permanently deleted!


Yes. Since the files are not marked for deletion, they will continue to take up space if they are saved in the Recycle Bin. Once it is emptied, that space will be restored. If you delete a file on a computer and thus move it to the recycle bin, the reference to the file, folder, document, picture, ... on the hard drive is removed.

As soon as the link has been removed, the file in the relevant folder can no longer be seen on the computer. The storage space that the file occupied is still occupied because it was reserved for this file.

New files can only be saved in this storage location when the recycle bin is emptied.

See also: ►►  Delete without recycle bin ►► Secure delete  ►►Delete locked files  ►► Restart Delete



(Image-1) Empty the recycle bin to free up space!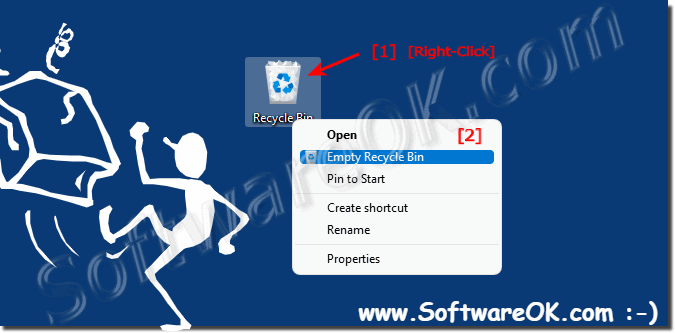 PS: Ensuring that a file cannot be recovered by running a low-level format , or other utility that will overwrite  all deleted files with zeros or other random numbers, is the only way to ensure files are not recovered can be. A low-level format can also be referred to as filling with NULLs, since the zeros are written to the hard disk. If the deleted file memory is overwritten by zeros or other data, it can no longer be recovered.



FAQ 133: Updated on: 27 August 2021 10:29