The recycle bin function in Windows 11, 10, ... secure deletion is very popular and is often recommended by data protection officers, why not when it's so easy!


Contents:


1.) Safely delete via the recycle bin or the desktop icon!
1. Start as always ►  the Secure Erase app

2. Via the main menu "Add to MS Explorer!"

3. You can then safely clean up the recycle bin with a simple right-click

( ... see Image-1)

    
(Image-1) Recycle bin and delete securely!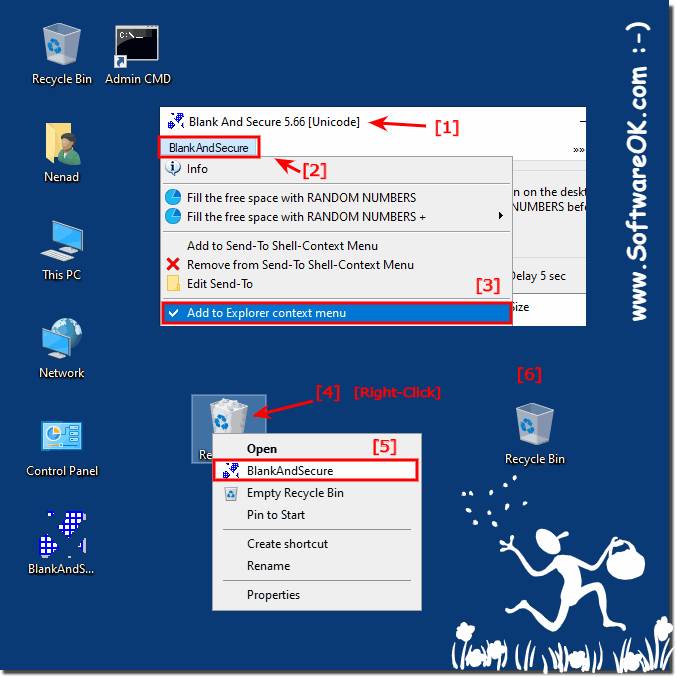 2.) Bug-Fix recycle bin symbol under Windows 11, 10, 8.1 during secure deletion!

Up to 5.61 there was a bug with the recycle bin icon under Windows 11, 10, 8.1, ... when / after securely deleting the data!



Message from the attentive user:

Hi, I use the program and I love it. However, I have the following problem: deleting the recycle bin deletes everything, but the bin still shows as full? 

The problem has been fixed with version 5.66 of

Secure Erase for Windows

!

(

... see Image-2 Point 1 to 5

)

(Image-2) Bug-Fix recycle bin icon on Windows when delete securely, fixed!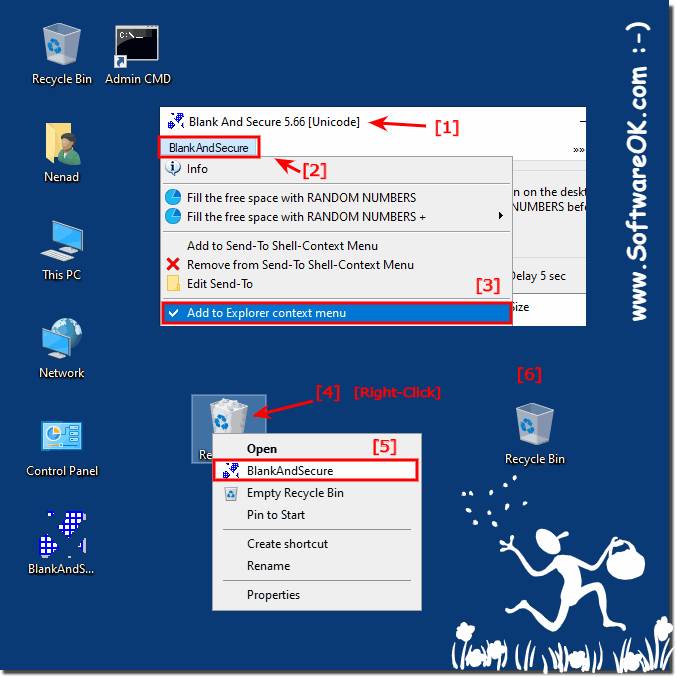 3.) Technical data for safely deleting files from the trash!
To safely delete files using the Recycle Bin or desktop icon context menu, do the following:

Recycle Bin

Right-click the file or folder you want to delete.
Select "Secure Erase" from the context menu.
In Secure-Delete, delete the Trash.

Desktop Icon Context Menu

Right-click the Recycle Bin desktop icon.
Select "Secure Erase" from the context menu.
Without checking the box, the data will be "Permanently deleted".


Note: If you delete files using the Recycle Bin, you can still restore them until the Recycle Bin is emptied. If you want to securely delete files, use the Secure Delete option!

If you want to delete files particularly securely, you can take additional measures. This includes using a data deletion program such as Secure Erase to be able to overwrite the files. Destroy the physical storage media on which the files are stored.

Secure deletion as a data deletion program:

Data deletion programs overwrite the files with random data. This makes it very difficult or impossible for data recovery software to recover the files.

Physical Storage Media:
You can also physically destroy the physical storage media on which the files are stored. To do this, you can cut them up, grind them up or burn them.




To securely delete files, you should delete them using either the Recycle Bin or the desktop icon context menu using the "Secure Delete" option. If you want to take additional security measures, you can use a data erasure program or destroy the physical storage media.





FAQ 9: Updated on: 18 October 2023 20:19