The DDC.exe is currently in the Windows (11, 10, 8.1, 7) system preset date and time display format used in the desktop clock!
Info:
You can complete in any Windows operating system without a Windows super course training to quite fast and easy formats this feature is as well as under Appel's MAC and Google's Android a standard feature in the MS operating system.
Thus one can decide for oneself which time and date format system value is used as default value.
1.) Customize the Windows time and date format!
1. Open the window "Region - Customize the format" in Windows 10 / 8.1 / 8.

2. For example, via Windows Run dialog Windows + R shortcut and the command: intl.cpl
3. And now click on the Formats tabs , and change the time format and date format
3.b.) or other number formats! (
... see Image-2 Point 1 to 3
) 
Long Date Used

for the Digital Desktop Clock!
(Image-2) Change the windows date and time format!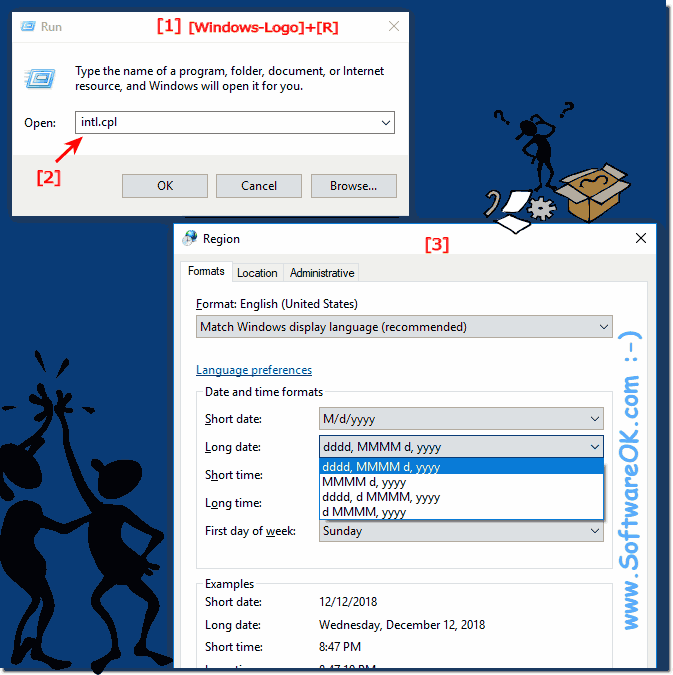 Info:
If you would like to change the time and date yourself under the Microsoft Windows operating system, you can quickly do this via the Date and Time dialog. Here is also an example of how to quickly set or change the date and time format if it is displayed incorrectly, which also affects other
desktop clock programs
!  

2.) Other ways to change the date and time! 
If you are not completely satisfied with the upper solution, changing the date and time, you can also use a more professional solution to change the date and time on the Windows PC. 
And by the way, it is possible to stand out with its special expertise, although it is a rather old but elegant option to change the date and time.    
Info:
As you can see above in Windows 10 and 8.1 shot screenshot, it is easy to change date or time in Windows or to adjust the format. As a solution to change the date and time, you can easily apply this example to earlier versions of Microsoft's Windows operating systems. It is always possible to change the date and time whether it is a Windows desktop computer or a Windows Mobile Tablet, Surface Pro / Go, or even a Business Server operating system, it has been tested and successfully 
verified
.
FAQ 2: Updated on: 22 September 2022 17:49