Whenever I install a new application, a shortcut for that application is placed on every Windows 11, 10, ... etc. desktop.




However, if several users are working on the Windows computer, one also wants to create a desktop shortcut for the newly installed Windows tool on the desktop for the son, daughter, wife, so that everyone can benefit, here are two examples of how they can do this under Can handle Microsoft's Windows, suitable for Windows 11, 10,... and also for 

Windows Server

 2019, 2016, ....!


Contents:



1.) Solution 1: Create desktop shortcuts for all users for all at once!
Please open shell:Desktop and the shell:common desktop folder in Windows Explorer!

The  shell:desktop is your own and the

shell:common desktop

is everyone's (shared desktop folder) Now simply copy the relevant program shortcut. Here in Quad Explorer, because it's easier, but MS Explorer also works with Windows + R and the shell:commands mentioned. Simply open two MS Windows file explorers.



(Image-1) Create a desktop shortcut for everyone on Windows!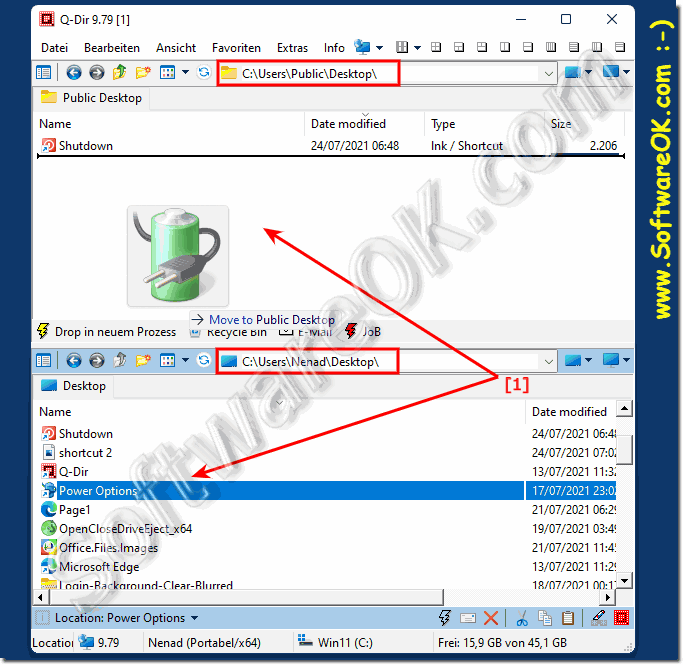 Overall, desktop shortcuts are an efficient way for all users to organize your computer desktop and quickly access frequently used resources. You can streamline your work process and increase productivity.



2.) Solution 2: Create desktop shortcuts for all users individually!
Use shell:userprofiles  to see all user folders, open your own desktop  shell:Desktop 

Now open each individual user folder, which also contains the Desktop folder, and copy the shortcut to each folder.

Windows desktop shortcuts are a convenient way to access files, programs, and other resources on your computer.




(Image-2) Create a desktop shortcut for another user on Windows 11, 10, ...!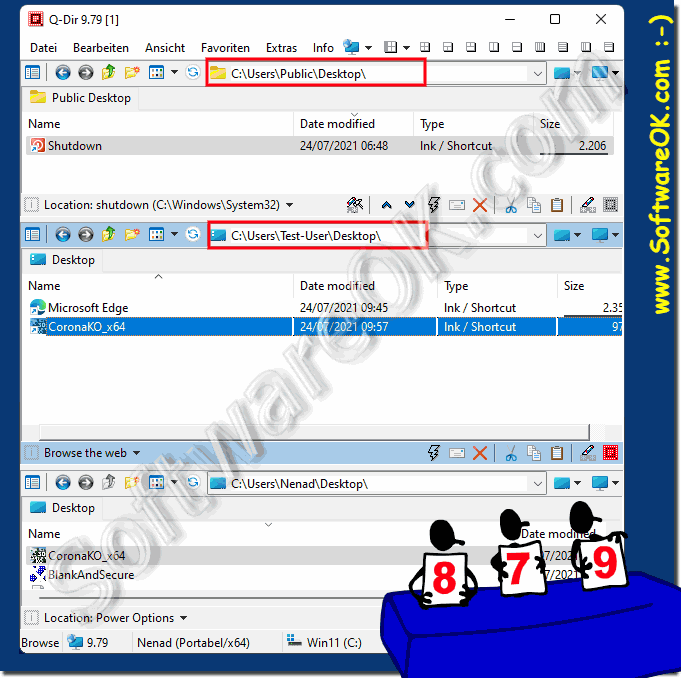 3.) What are the advantages of the two desktop shortcut solutions?
The first solution is of course associated with less work and the second is more secure, for example if the son, daughter or wife deletes it on the desktop, it disappears on all other desktops, which is of course annoying. In this case, however, you can get ahead with the Windows access rights.

Remove Windows access rights
►► Activate the system full access administrator account in Windows 11?

  


Desktop shortcuts provide quick and easy access to files, folders, programs and websites. 

You can simply double-click the icon on the desktop to open the linked resource. 

You can organize your desktop the way you want by creating and grouping shortcuts. 

This makes working with important files and applications easier because you can find them instantly. 

Desktop shortcuts can also be customized on your Windows. 

You can change the icons, give them different names, 

and even add keyboard shortcuts

 to make access even easier.





By creating shortcuts for frequently used programs or tasks, you can streamline your workflow and save a lot of time. 

You don't have to search through File Explorer or find a program from the Start menu every time. 

The desktop shortcuts are easily visible to all users and typically do not require in-depth computer knowledge to use.



FAQ 79: Updated on: 24 September 2023 14:23