The solution to show PM / AM in the Digital Desktop Clock on Windows 11, 10, ... all OS, MS Desktops and Server 2019, ...!





 

Content:



1.) PM and AM in the digital desktop clock!
1. Start the digital desktop clock for MS Windows as always

2. Do a right Click on the Calendar Button 

3. And activate the option the AP / PM Option

(... see Image-1 Point 1 and 2)




(Image-1) Show PM AM in the Digital desktop Clock on Windows all OS!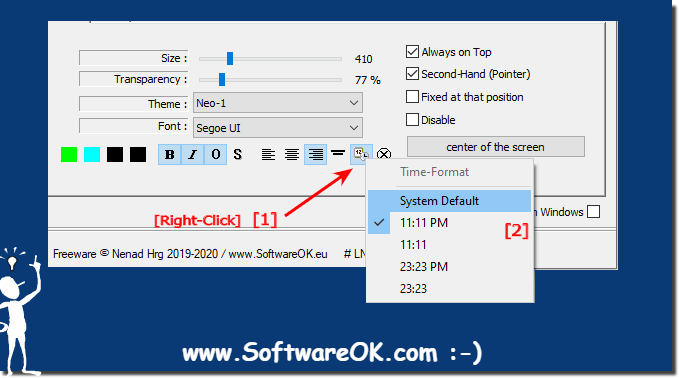 The digital desktop clock normally automatically displays the correct system time, including the PM and AM. Usually you don't have to worry about it. but you can optionally force it.





2.) More information about how the time and date are displayed on Windows!
It was always very important to me that the display of the desktop time and the date display on the Windows desktop can be individual, for this reason I have installed various options in the desktop clock to individualize the display of the digital desktop clock or to customize the design make.

However, over time the requests for individual orders etc. in the desktop clock are piling up, where I am currently working on a complete adjustment of the display of time and date so that I do not have to access the system settings. In the future it will be even easier to customize this small but mighty digital desktop clock for Windows.

It has to be said that the users handle such applications very meticulously, even if they are very small, and that everyone wants to bring their individual wishes into the desktop. Which can be implemented quickly for me with more or less effort but is also an advantage because the desktop clock is getting better and better and every previously dissatisfied user with the digital desktop clock under Windows will be happy.




FAQ 6: Updated on: 1 October 2022 19:02