Change the alignment of the desktop time to left, if you prefer to have the desktop clock at the top left on the desktop!




 

Content:



1.) Align the desktop time to the left or right!
1. As always, start ► the digital desktop clock for MS Windows 11, 10, ...! 

2. Click the Text Align Left button.  

3. Click the Time - Align Below Date button.  

(... see Image-1 Point 1 to 3)

PS:
If you love to see the desktop date and time at the top left of the desktop, you may be satisfied with this alignment of the Windows desktop time and date on Windows 11, 10, ... and also on MS Server 2019, ...!




(Image-1) Switch desktop primeval time to links under the date!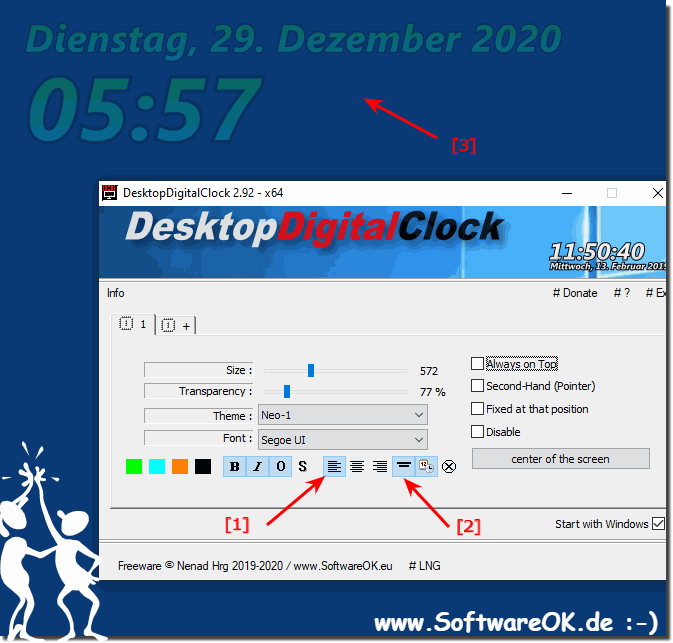 2.) Why is text alignment necessary in the digital desktop clock!
Depending on where the digital desktop clock is located, you can align it to the left, right, middle, top or bottom of the text to get a more visually appealing and coherent overall picture.

Even though the trend with Windows 11, for example, is that there are fewer and fewer settings to be made to the system and everything is pretty much uniform, I'm still pursuing the goal from the old Windows days, where you could change almost everything on the desktop, both in Both in color and shape, even the window frames were changeable, which today is almost impossible, or rather it is impossible.

Of course, with a digital desktop clock, you cannot afford to make such a blunder and simply ignore the individual wishes of the user. As you can see, a great deal of attention to detail has gone into making the digital desktop clock as adaptable and customizable as possible to the user's desires on the desktop, whether you see the time or the date on the clock want.

The configuration of the digital desktop clock is independent of the operating system, very easy and no matter whether you use it on the home computer or in the office to decorate your Windows desktop, the digital display of the time and the current date is very popular because it is simple is readable and easy to recognize.

FAQ 7: Updated on: 2 October 2022 03:19