It is
easy to save and load the desktop icon's position from a file

, and it does not matter whether it is Windows 11, 10, 8.1, ... or MS Server OS!






1.) Save Windows desktop symbol arrangement as a file!
Please always use ... the latest version of DesktopOK. 

You can create and restore multiple profiles in the *.dok File. To do this, click on "Icon Save as" and "Icon Load from" (... see Image-1)

See also:
► Change Windows Desktop Icon Size and View ,plus save!
► Difference between Shut-Down Save and Auto Shut-Down Save!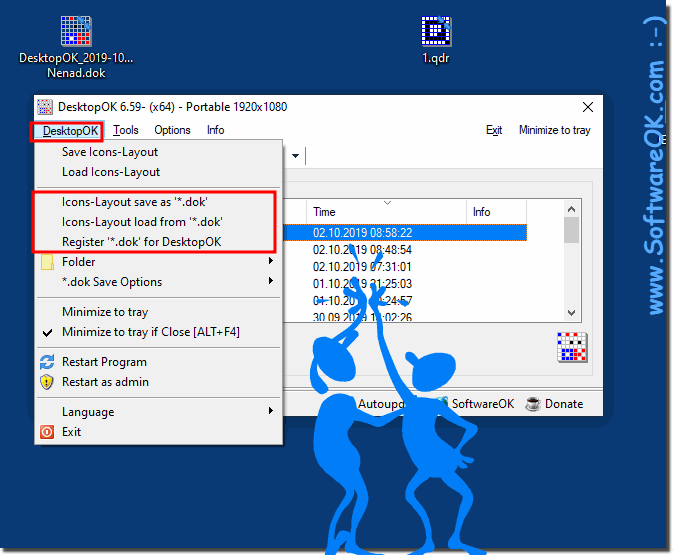 Desktop Restore feature especially useful if you change the resolution of your monitor more then often, DesktopOK makes gamer in particular benefit from the tool.


2.) The new icons on originally free places?
User question:


The program works, but what I find very bad is: If since the last Icon-Backup new icons were added and the icons are messed up, DesktopOK is not able to reposition the known icons and the new icons to originally free To push places.



Answer:
No, a free space is chosen, but after that you can save the desktop icons again.
Or activate the autosave. So many users even have the place to the stop full of icons.

See also: ► what does "punch the icons" in Desktop.O.K.?

3.) Optionally, switch user or lock = Save / Restore the windows!
The new option, when Switch user or Lock the Windows, Save and Restore window positions and size!

Available in DesktopOK from the version 4.51! 

 

It works even if the user does not change!

It is also possible to restore the icons from the lock screen when logging in! 

 

See also: ► I have set it to 'Keep last 4' but it doesn't so Auto-Save!



(Image-2) Saving and restoring windows under Windows!


FAQ 10: Updated on: 28 August 2023 08:32