You must
activate the Auto-Save feature

in DesktopOK , and it does not matter whether it is, Windows 10, 8.1, ... or MS Server 2019, ... OS! 




Info:

Easy use the Auto-Save feature in Desktop-OK on all Windows Desktop and Microsofts Server Operating Systems! 

Content / Solutons / Tipps:
1.) Activate auto save desktop icons feature.

over ✐ Main-Menu ✐ Options ✐ Auto-Save ✐ Enable 



(Image-1) Activate Auto-Save Windows Desktop-Symbols!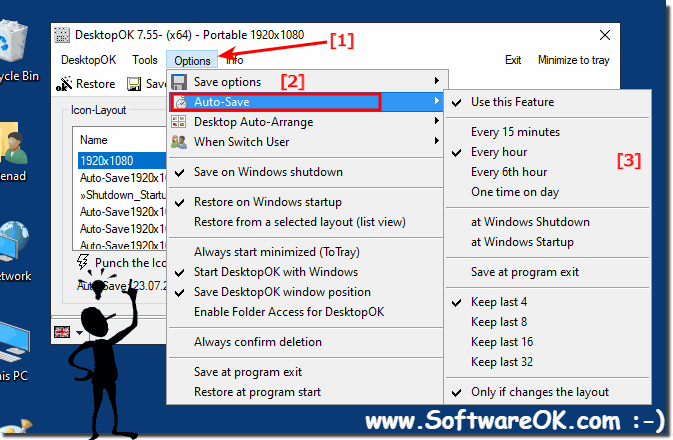 ......

2.) If you rename the auto save entry.
The program will the Auto-Save record, no longer see as the Auto - Save entry!
Image-2 Auto-Save Icons Entry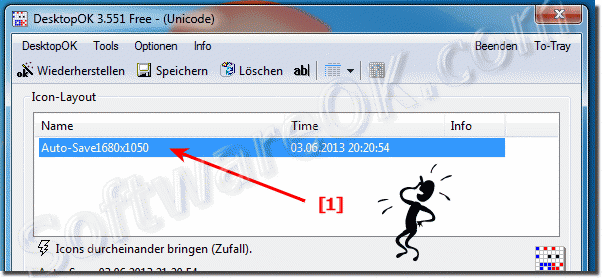 I have set it to "Keep last 4" but it does not do so!


Info:
This Desktop Icon Save Tool is a small tool that adds a missing function to Windows. The application stores the arrangement of the icons on the desktop. The times when the program icons were abandoned in the usual order when changing the screen resolution are thus a thing of the past.

Depending on the setting, This Desktop Icon Save Tool for Windows automatically saves the self-defined arrangement of the program icons in Windows. The software allows a quick rearrangement of the icons according to the created profile or the quick restoration of a desired state via the context menu (right mouse button on the desktop). This benefits computer users in particular, who often have to change their screen resolutions, or groups who need to share a PC with just one set up Windows profile.

FAQ 9: Updated on: 3 May 2020 10:00