When printing under Windows, you can adjust the font or the aspect ratio (Zoom) in
Directory Print

of DirPrintOK!

Content / solution / tip:


1.) Adjusting the scaling / aspect ratio in the preview!
This is easy in DirPrintOK, by changing the aspect ratio in the print preview (of the folder expression). You can adjust the aspect ratio between 5% to 1000% with the right control.
Or conveniently via the drop-down menu. ( ... see picture-1 )

In this case not only the font is reduced, the aspect ratio proportionally reduced or enlarged. This makes it possible to place as much of the contents of the folder as possible on a page in a readable and clear manner, as it later appears when printing folder list on the every printer.





(Image-1) Adjust the aspect ratio before printing in the preview!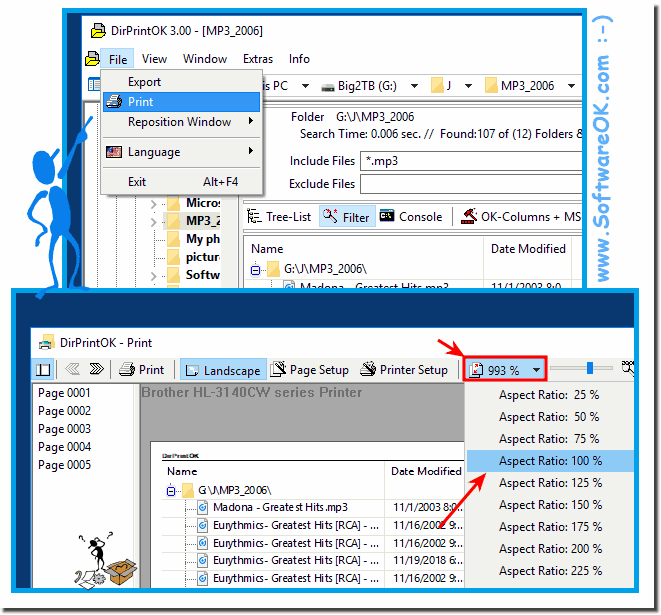 Directory tree print out foreword: 

Sure, who has too much time can try to solve these complex directory print out tasks with ancient tips from the Internet, but you will soon find out that PowerShell and the command prompt are not printing experts, yes you can continue to work on office programs , If you have a lot of time and boredom, you can try PowerShell and the command prompt and then as a normal user, who is very good at scripting, you will find that you cannot, but that is wrong, everyone can print a directory tree or a list, but not with an 80s solution that has not been deleted on the Internet and has been copied x times! 



2.) Little tip for scaling and font size!
When printing the directories are 5% mostly illegible, as the 1000%;) But not only in the directory tree expression, but also if you want to print lists and folder contents. In short, with any kind of folder printouts and directory contents! 



(Image-2) Expression, font reduced!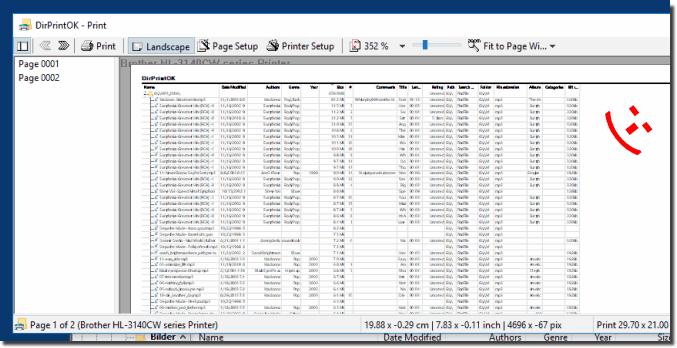 Info:
Adjusting the typeface, or rather downsampling, so that more of the directory tree fits on the DIN A2, A3, A4, A5, ... page in DirPrintOK, it is very easy for the dictionary expression to be very handy as you can with different sheet formats the directory print also uses the maximum of the paper, do not be confused, the new screenshot has been made under Windows 10, but these functions are also suitable for all other versions of Microsoft's Windows operating systems whether it's a Windows desktop, tablet, Surface Pro / Go, or even a server operating system. It has been tested on all and successfully
verified
. 
FAQ 1: Updated on: 19 June 2021 02:39