To find the Windows 8.1 fonts e.g open the fonts folder, please start the MS Explorer to install or uninstall the Windows Fonts!


1. Please use the hot key [Windows + E] and select the address bar [ALT+D]

2. Enter the address: shell:fonts or WINDIR%/Fonts (C:\Windows\Fonts)!
(... see Image-1 Arrow-1)  

3. And you can see all installed fonts, in Windows 8.1 fonts
(... see Image-1 Arrow-2).





(Image-1) Find the Windows 8 and 8.1 fonts and the fonts folder!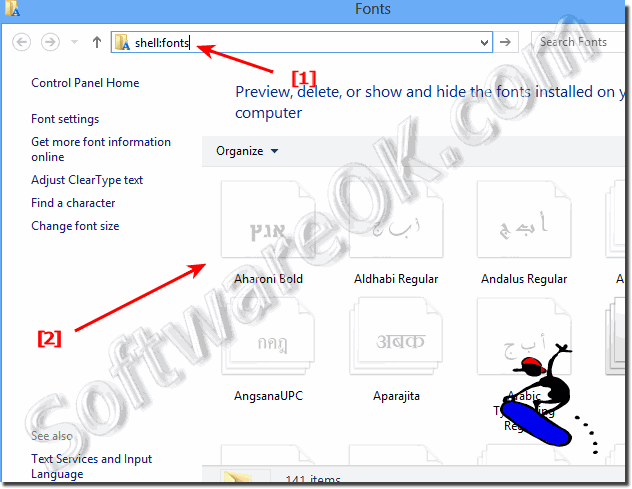 The solution ergo instruction, is a example to find the fonts and the fonts folder, it is written for Windows 8 & 8.1, however, you can use this example as a solution also for earlier Microsoft's Windows operating systems whether it's a Windows desktop, or Tablet-PC or even a server operating system and Windows. It has been tested on all and successfully
verified
.
FAQ 87: Updated on: 4 October 2020 05:35