Please start the "DirPrintOK _Installer" and click on "install" on Windows 11, 10, ... and MS Server OS!
This is
valid
for the program Q-Dir and Meinplatz !

Content / Solution:

1.) DirPrintOK portable installation!

Or download DirPrintOK_Portabel.zip and use it.




(Picture-1) A silent (silent) or portable installation of DirPrintOK!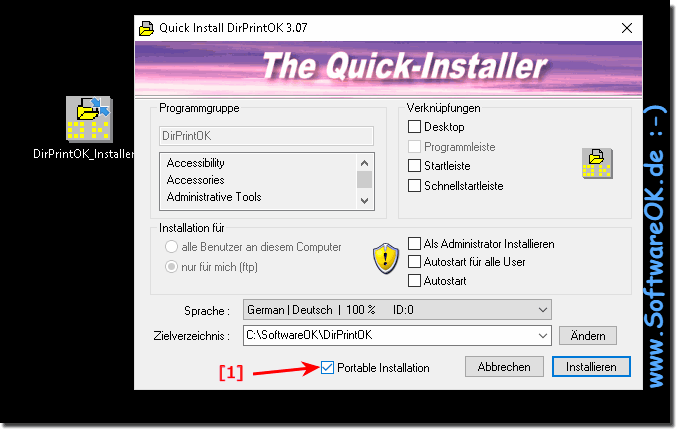 Info:

The installation solution, or instruction, is not written for Windows 10 only if the sample images for the directory printing program have been made under Windows 10. You can easily and safely use this Order Lists tool on older versions of MS Windows operating systems as well, regardless of whether you need a directory printout on a native Windows desktop computer, or mobile on the Tablet PC, Surface Pro / Go directories want to print, or even use as an administrator to require the MS Server operating system to print a directory.


2.) Installation program arguments!
The silent installation with a specific language!

DirPrintOK .exe -install /silent langid=14
Other program parameters as of version 6.97
admin = as administrator
forall = for all at the same time admin and for all users (accounts)
noquicklaunch = not in the Quick-Launch (quick start bar)
nodesktop = no desktop shortcut
nostartmenu = no entry in the start menu
noautostart = no autostart entry
DirPrintOK.exe -install /silent noautostart forall langid=14 
FAQ 13: Updated on: 27 August 2023 12:15