The main difference between Start DVD and Boot USB is that devices without DVD drives can also be booted or started!


Contents:



1.) The main difference between boot DVD and boot USB!
The startup mechanism is no different as USB starts the same way as DVD, but there is a big difference in read / write speed  between USB and DVD.



With USB 2.0 it is up to 60 megabytes per second and a DVD, for example, reaches 20-40 megabytes per second in the best case.

The

USB Boot Stick

behaves like a hard drive in many ways and is used more for starting or booting the PC. Booting itself is part of starting the system!

PS: That round is the DVD! 



 

(Image-1) Optical difference between DVD and USB!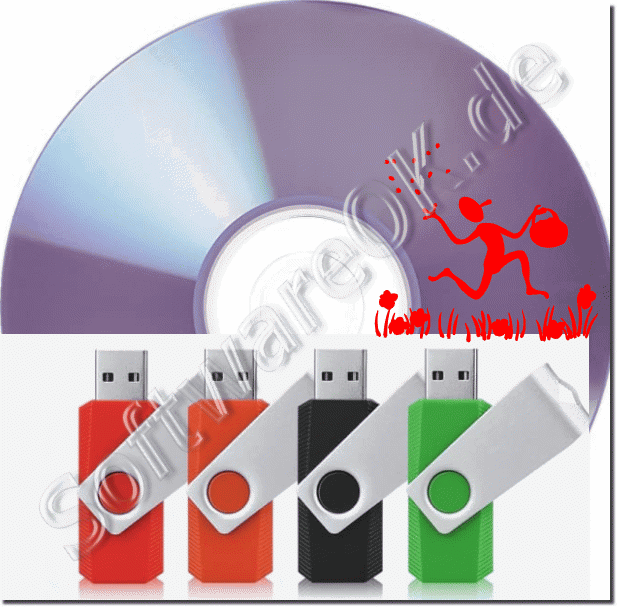 2.) Starting a computer from a DVD and booting from a USB drive!




Booting a computer from a DVD and booting from a USB drive are two different methods of starting the computer's operating system or running software. Here are the key differences between the two:





Media Type:

DVD (Digital Versatile Disc): A DVD is an optical disc that contains data and is read by a DVD drive. To boot a computer from a DVD, you need a bootable DVD, which usually contains an operating system or software that can be run directly from the DVD.

USB (Universal Serial Bus): A USB drive is a portable storage device that connects to a computer via a USB port. To boot from a USB drive, you need a bootable USB flash drive that contains the necessary files for the computer to boot into the operating system or software.

Portability:

DVD:
DVDs are less portable than USB drives because they are physical disks that can easily be scratched or damaged. They also require a DVD drive, which may not be available on all computers.

USB:
USB drives are extremely portable and durable. They can be easily carried in a pocket or bag and are less prone to physical damage. Most modern computers have USB ports, making USB drives more versatile.

Boot Speed:

DVD:
Booting from a DVD may be slower than booting from a USB drive because optical drives have longer access times and data transfer rates compared to USB drives.

USB:
USB drives generally offer faster boot times because they have faster access times and data transfer rates compared to DVDs.

Ease of Use:

DVD:
Creating a bootable DVD may require burning an ISO image to a blank disc, which can be a bit more involved and may require specialized software. You will also need access to a DVD drive.

USB:
Creating a bootable USB drive is often easier and can be done using various tools, including built-in utilities in some operating systems. USB drives are also more widely supported on modern computers.

Capacity:

DVD:
DVDs typically have a fixed storage capacity of 4.7 GB (single-layer) or 8.5 GB (dual-layer). This limits the amount of data or software that can be stored on a bootable DVD.

USB:
USB drives come in various capacities, ranging from a few gigabytes to several terabytes. This provides more flexibility in the size and amount of data or software you can store on a bootable USB drive.




In summary, the choice between booting a computer from a DVD and booting from a USB drive depends on factors such as portability, speed, ease of use, and the specific needs of the task at hand. USB drives are generally more versatile and convenient for many purposes, but DVDs can still be useful in certain situations or on older hardware without USB support.





FAQ 35: Updated on: 7 October 2023 08:30