This also gives you a convenient way of changing the date values ​​and times later from the File Explorer under Windows!
Contents:
1.) Add to File Explorer!
1. Please start ► 
New-File-Time
,
2. Click on the main menu and now simply add to the MS Explorer menu
(
... see Image-1 Point 1 and 2
) 
You can use the "Send To" menu at any time then send the selected files to the tool in File Explorer and simply correct the file and folder time!
(Image-1) Change dates and times with a free tool! 

2.) Change the file time via the file explorer Right click!
If you now want to correct the file time in File Explorer
1. Simply right-click on the selected folder or file
2. And send it to New File Time and adjust the date time 
3. Change the file time with the
Set Time
button ! 
(Image-2) Change dates and times with a free tool!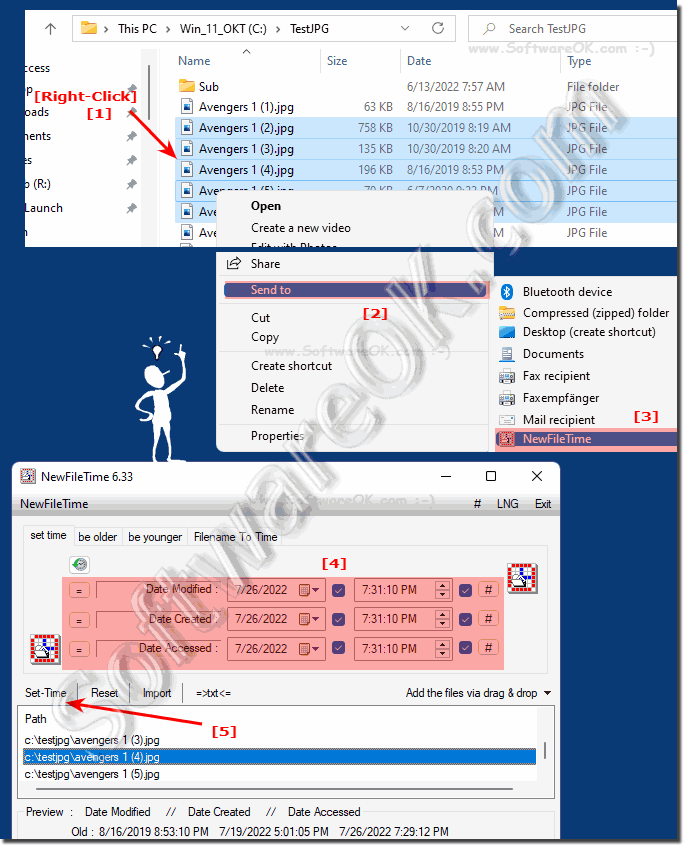 3.) More tips on file time!
The creation date and modification date are two important dates in all Windows operating systems. The age of files can be recognized quickly with this. Especially important if you like to sort the files by date in the detail view of Windows File Explorer. You can find more tips on this topic here!