Marking pictures by quality without knowing the possibilities can be time consuming on Windows 11, 10, ... etc. or MS Server OS!


With many pictures there are also many duplicates, the marking of pictures to filter the better or worse similar or duplicates are after an important task after events, events, ... with many photos you want to compare the photos with this Mark the tool to select the better identical photos, it is easy to identify the better photos to separate them!



 

Content:


1.) Mark the pictures with the arrow keys!
1. As always

, start the image search in Find.Same.Images.OK

2. Start the search for the same pictures

3. Please check whether the option: "<-------> Selection (arrow keys)" is active. 

4. Mark the pictures with the right or left arrow key

(... see Image-1)

This is very practical because you can go through all pictures without a mouse and individually or by marking can mark several pictures more at once!



(Image-3) Marking pictures in The List View via Arrow Keys!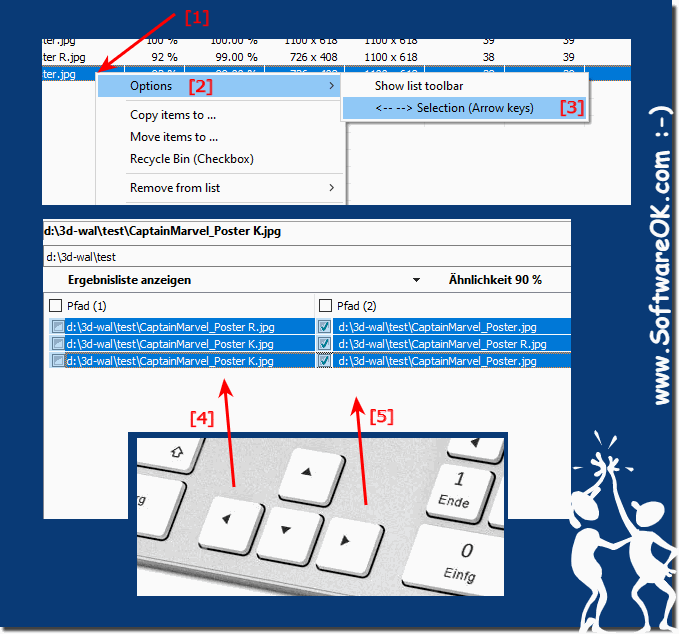 2.) Mark the images according to quality and functionality!

With the right click menu in the image comparison software you can have the images marked according to quality!

(... see Image-2 Point 1 and 2)



How it works: 

 

First the resolution is compared, the better picture is the one with the larger resolution, if the resolution is identical the picture with the larger file size is the better one!




(Image-2) Marking pictures by quality!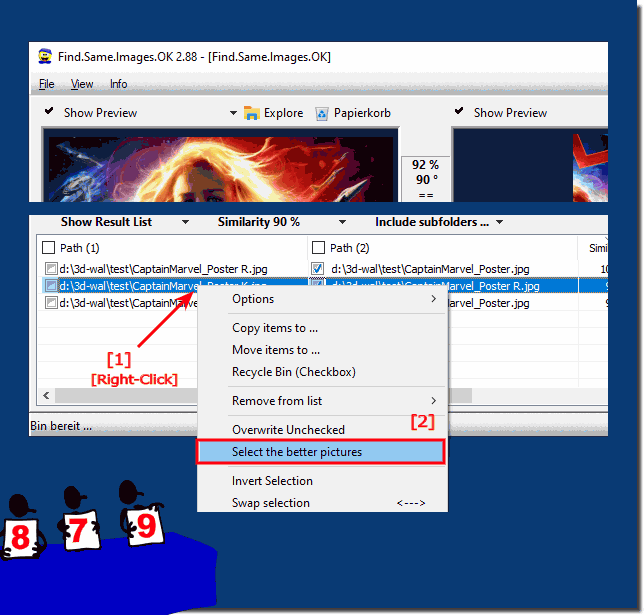 3.) Why is the marking and deleting of the pictures resolved in this way!
I primarily developed the program for myself and then also released it. At the beginning I was only concerned with recognizing duplicates of certain images that are actually very important to me and also keeping them in the best quality. Images create a large amount of data on the hard disk over time, even if they are individually very small.

In the age of mobile phones, it's no wonder, you take a lot of photos, send them via WhatsApp, save them on Facebook or whatever, so many copies are made.

In the meantime, however, users are getting loud, who simply collect and store a lot of things from the Internet on the hard drives. Of course, this also results in double pictures and similar pictures. Here, deleting the pictures is different because you don't really have anything in relation to the pictures, but you really just want to get rid of many that are useless as quickly as possible, so a second solution will follow in the future to deal with such problems as well.



FAQ 22: Updated on: 30 August 2023 14:31