An operating system from Google, it supports web applications and native applications, but is designed/aligned differently than MS Windows! 


Contents:



1.) ChromeOS the slim operating system!
The basic idea of ​​chromeOS is the use of web applications to make Gmail, Google Drive, Google Docs, Sheets (Excel), .... available to the user for free!

There is no official version of Chrome OS that you can use without buying a Chromebook.

Google also doesn't offer a version of Chrome OS that you can install on existing hardware, whether in a virtual machine or on a full-fledged laptop or desktop PC. You can only get the full version of Chrome OS on a Chromebook.

However, Chrome OS Flex is coming soon and should close this gap!

Google's Chromebooks run Chrome OS, it's also a small operating system, however it requires the same hardware to work well as the Windows 11 or 10, however it's Linux based, the Chrome browser is of course built in and a fairly simple desktop.



It has similarities with MS Windows OS, but it is not Windows, as a Windows user you will notice this at the latest when you look for the file explorer, hard disk management, administrative programs, command prompt or similar applications included. 

Windows freeware or tools cannot be installed unless there is a version for ChromeOS! If you feel at home on smartphones, you could also find a friend with ChromeOS and work with it. 





(Image-1) Example Chrome OS on a notebook!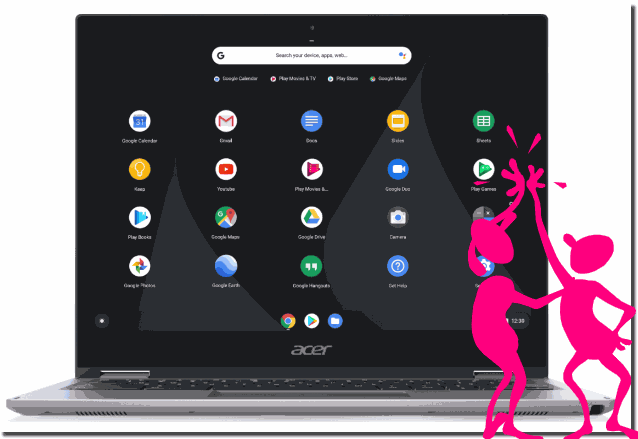 2.) More links / information about ChromeOS!
As I said, ChromeOS is from Google, whoever starts with the expectation of having another Windows operating system will not immediately become good friends. It is a desktop based operating system and offers APP support from the Google Play store.   

The ChromeOS Flex is in the works and should offer more!


Wiki says: ►►  Google chromeOS
Google says: ►►  https://www.google.com/intl/de_de/chromebook/chrome-os/

Chrome OS is the fast and extremely secure operating system for Chromebooks, which is also very easy to use.













FAQ 274: Updated on: 4 July 2022 12:06