A portable use of IsMyLcdOK the
Pixel Tester on all Windows is possible, for portable use

: create or copy the IsMyLcdOK.ini!



From Version 3.03
By default is the IsMyLcdOK.ini in:

"C:\Users\User_Name\AppData\Roaming\IsMyLcdOK\IsMyLcdOK.ini"


ergo %appdata%\IsMyLcdOK\

For portable use: create or copy in the same directory (IsMyLcdOK Work-directory) the file IsMyLcdOK.ini.
IsMyLcdOK will uses this to save the desktop icon layouts. (Please restart IsMyLcdOK)

It is also the case that some users want to move the IsMyLcdOK.exe in the standard program directory
C:/Programs/IsMyLcdOK

Please don't Save in Protected folders in Windows 10. 

From Version 3.03
If can't write in the IsMyLcdOK.ini, auto create an ini file in the %appdata%/IsMyLcdOK/IsMyLcdOK.ini to save the Desktop Pointer Settings.

Info: Please Run (Windows + R) the Command %appdata% to find this folder!

Please use ... always the latest Version of IsMyLcdOK.! 

Important: the Windows 10 is after new updates very aggressive to x32 APPs and Programs please use the x64 Version on Windows x64!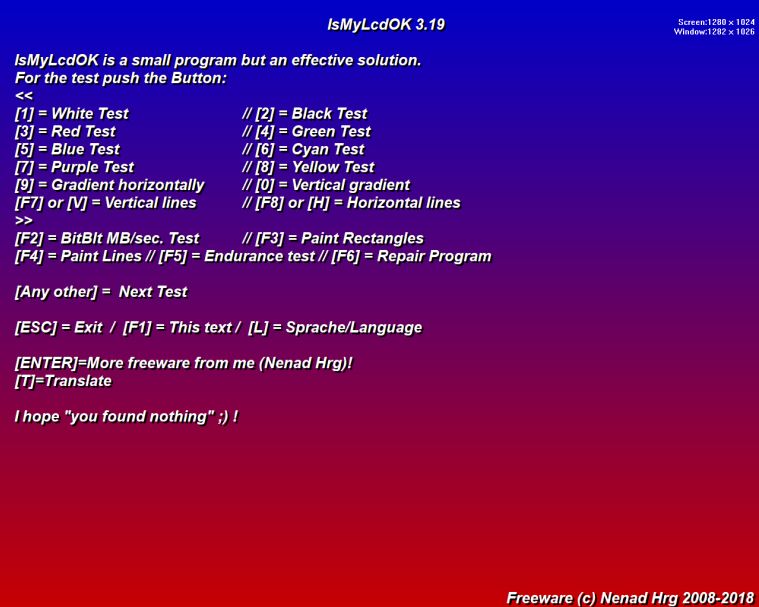 At the beginning of IsMyLcdOK show you screens in different colors, black and white, and so on, then go multicolored color, and we know with you that dead pixels can not be visible on specific colors, all the filling in which you to see the defects.

The Windows Pixel Tester is able to work properly both the x32 and x64 bit systems, no installation requires, as you can see from the screenshot, they employed in the development of about 32 kilobytes, you will agree that it is very small but on the other hand can be immens, especially when buying a monitor, ask to test it with this utility, IsMyLcdOK should not fail you. In general, I hope the that any tests that you will do be successful, and if not, in the comments to withdraw, but who counted in his dead pixel!



FAQ 1: Updated on: 19 September 2023 14:50