The extended mouse tracks can be used on Windows 11 to better recognize or decorate the mouse on very large screens!


Everyone probably knows how to enable Windows 11 mouse trails, but sometimes they can't be long enough, why not if you can!


 






Even with the latest

 Microsoft Windows 11

 you can use the beautiful mouse tracks for Windows. The mouse tracks are suitable for all Windows OS from Windows 2000 to MS

Windows 11

and Microsoft's Windows Server 2022, 2019, 2016, .... You don't have to do without these creative and customizable mouse tracks for Windows on any Windows PC!



1.) Simple example of the alternative mouse tracks on MS Windows 11!

1. Download the ►  ... alternative Mouse Trails APP for Windows 11

2. Open the  zip folder  / archive in  Windows 11, .. Download folder

3. Double-click to start the Mouse Trails installation routine 

3b. Or place it on the desktop if necessary
(you can save the tool in any folder)

4. Start the  alternative mouse tracks

Continue with: ►  Options in the alternative mouse tracks under Windows 11



(Image-1) Continue to use the mouse trails on Windows 11!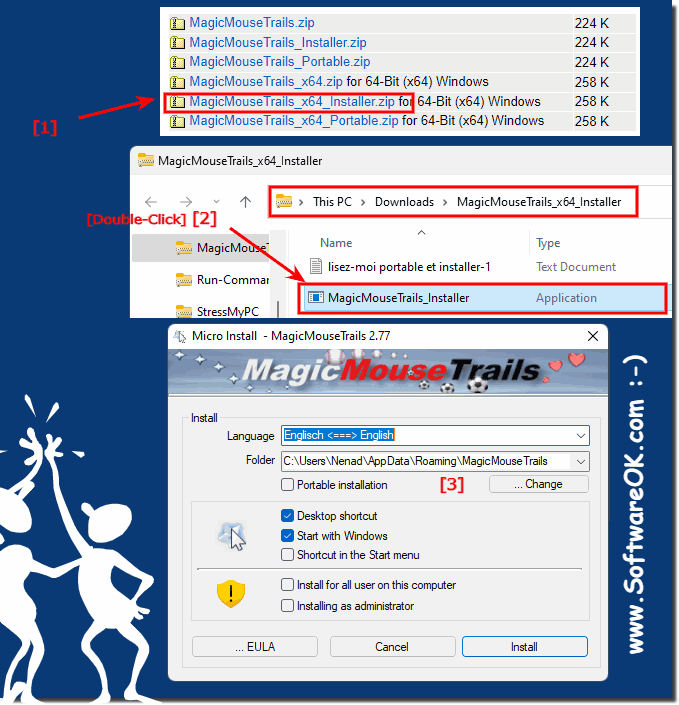 2.) Options in the extended mouse trails under Windows 11, 10, ...!

All options in the alternative mouse tracks are quite clear and self-explanatory.

The mouse track options:

1. Subject (texture)   
2. Speed ​​of the mouse trails 
3. Mouse trails transparency 
4. Optional intensity of the mouse tracks
5. Size of the mouse trails
6. Length of the mouse trails 
7. The Mouse trails type: Random tracks, or stars / points mixed 



(Image-2) The mouse trails Options on Windows 11!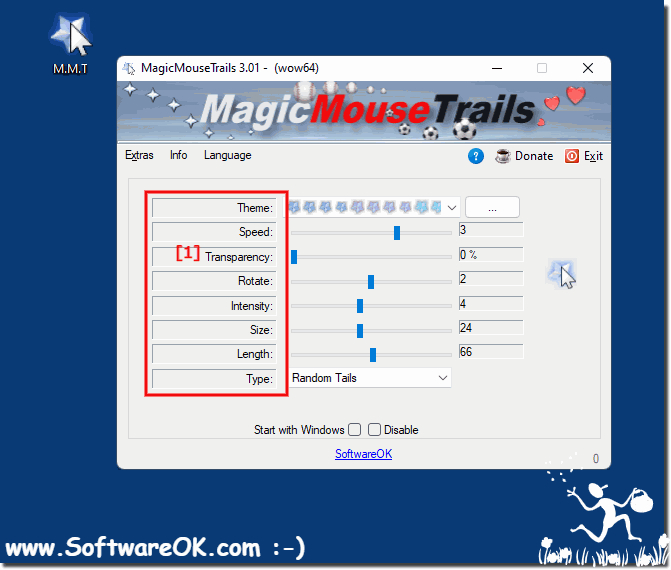 3.) What should I watch out for with the magnificent mouse tracks on Windows 11?
There is nothing great to consider with the mouse tracks, except that they can
be annoying if the setting is wrong. You should always adjust the mouse tracks to suit your own needs. Because less is often more, this is also the case with the mouse tracks under Windows 11. 

See:




(Image-1) Better short or equally long mouse trails on Windows OS!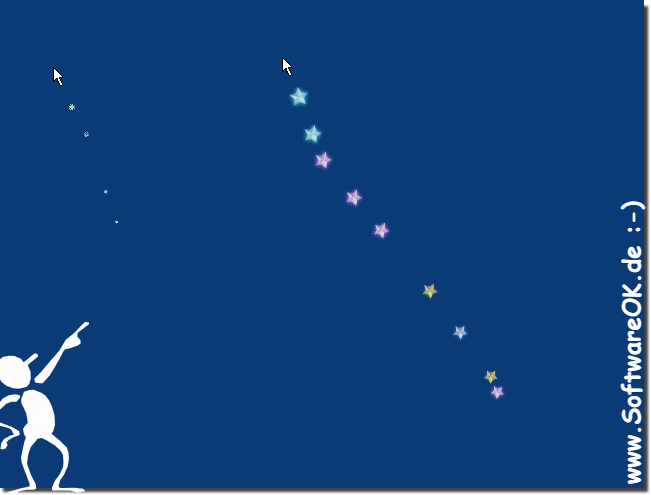 FAQ 11: Updated on: 26 August 2021 18:31