The solution is very easy to
find and activate Outlook Favorites

, or disable them if necessary!




If the Outlook Favorites are not visible, you can quickly find and activate them. The Favorites section can be activated and deactivated at any time if you do not want to use this function, for example, for more space to display the e-mail and other folder lists in the MS Outlook directory structure of the folders. 



 

Content / Solution / Tip:



1.) Activating Favorites in Outlook!
1. Start the Microsoft Outlook in your Office package.

2. Click on the tab (Tab / Tab) View

3. Now under Folder area just activate the Outlook Favorites.

4. The favorites now appear in the upper area 

(... see Image-1 Point 1 to 4)



(Image-1) Enable and disable, Outlook Favorites Folder!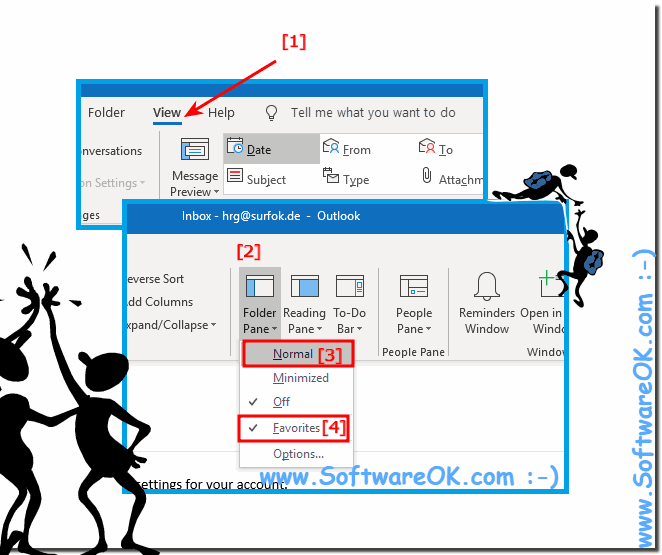 If you activate or deactivate, hide or show favorites in Outlook, no new directories or folders are created during the action. Only the favorites you have already created, which are not really folders, will be displayed, just simple links (bookmarks) to your favorite folders. 





2.) What should I consider in the MS Outlook Favorites!

The Favorites section is located at the top of the Outlook directory tree, which represents the individual folders from your email inbox.
Please remember, favorites are simple shortcuts to the folders you frequently use. 


3.) Adjust the number of objects in the navigation area!

At the same time, you can adjust the number of objects displayed in the navigation area (folder structure / directory tree) of Outlook.


Here you can easily restrict or extend the maximum number of objects in the Outlook navigation area. 
(... see Image-2)

You can also switch to the compact navigation mode to have more space to read Outlook emails. 


Defining the order of the folders in the navigation area 

If necessary, you can change the navigation area settings by clicking on "Reset"to the default Outlook settings again.
(Image-2) Customize Outlook Navigation Folders!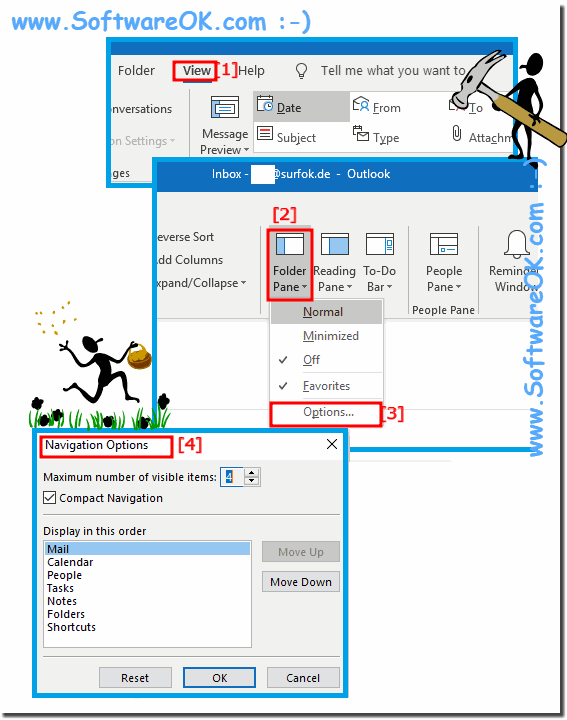 Tip:

To change the order of Outlook views, click or tap on a view, and then click Up or Down, which is very convenient. Thus, Outlooks: e-mail, calendar, contacts, tasks and notes are also relocatable in the order, which leads to a more individual and effective working in Outlook.



FAQ 10: Updated on: 3 October 2022 19:13