In Microsoft Excel , you can enter the same data or text into multiple cells at once using the following simple steps!
The classic marking of several cells in MS Excel, as well as inserting with the key Ctrl + V is probably familiar to everyone! 
Contents:
1.) Direct entry of the same text in several lines!
1. Select all cells for which you want the same text.


2. Enter the desired text directly.
(Optionally start the entry with the F2 key)

3. After entering the text, press the

Ctrl + Enter key

instead of the Enter key

(

... see Image-1 Point 1

)

After completing the above steps, the text will be automatically entered in all selected cells. This tip is useful when you have data with the same prefix and need to add something to the end of each cell. 


For example, the above steps were followed to type "SoftwareOK.de" in all of the highlighted cells, as shown in the image. Once you're done I could press F2 on a selected cell, go to the end and add "001" to make the cell "SoftwareOK.com 001". You could do this for each cell in order to have SoftwareOK.com 001-016.



(Image-3) Paste the same text into multiple Excel cells at the same time!

2.) In Microsoft Excel you can enter text on multiple lines within one cell!

In Microsoft Excel, you can enter text on multiple lines within a cell by typing the text in the order you want and then using line breaks. Here's how to do that:

Double-click the cell where you want to enter the text.

Enter your text and use the "Alt + Enter" key combination (Hold the "Alt" key and press Enter/Return) to insert a line break whenever you want. This creates a line break within the same cell.

After entering your text, press Enter to finish editing the cell. Your text will now appear in the same cell across multiple lines. You can adjust the row height to make the text fully visible by dragging the bottom border of the row heading.

Here in the picture, once with "Alt + Enter" and only with "Enter" 




(Image-2) Microsoft Excel enter multiple lines within one cell!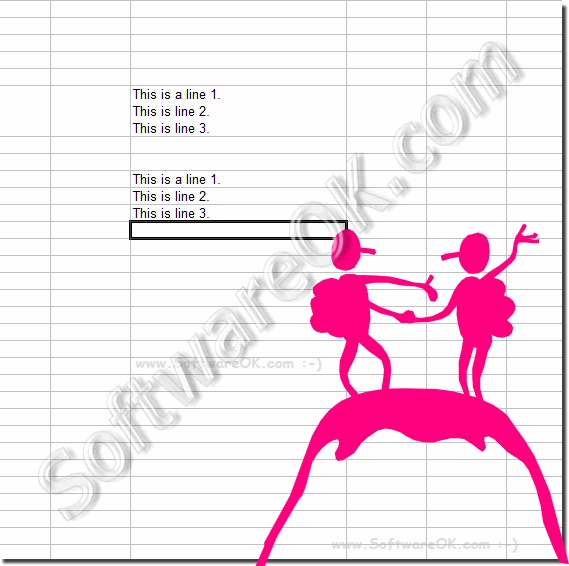 FAQ 48: Updated on: 1 October 2023 13:23