It's easy to convert PNG file to JPG with MS-Paint on Windows Desktop and MS Server operating systems!





In principle, you can convert PNG images to JPG format with MS Paint, but the quality suffers, but the image itself may take up less disk space!




Contents:



1.) How to convert PNG to JPG on Windows
1. Open the selected PNG file in Microsoft Paint program
2. Select "File" and click "Save As" and "JPEG Image" .

3. Enter the desired file name in the "File name" field
4. Click on the "Save as type" drop-down menu and select "JPEG".

5. Click on "Save" and the file will be saved at the selected destination

(... see Image-1 Point 1 to 5) 



(Image-1) Convert PNG files to JPG with MS-Paint!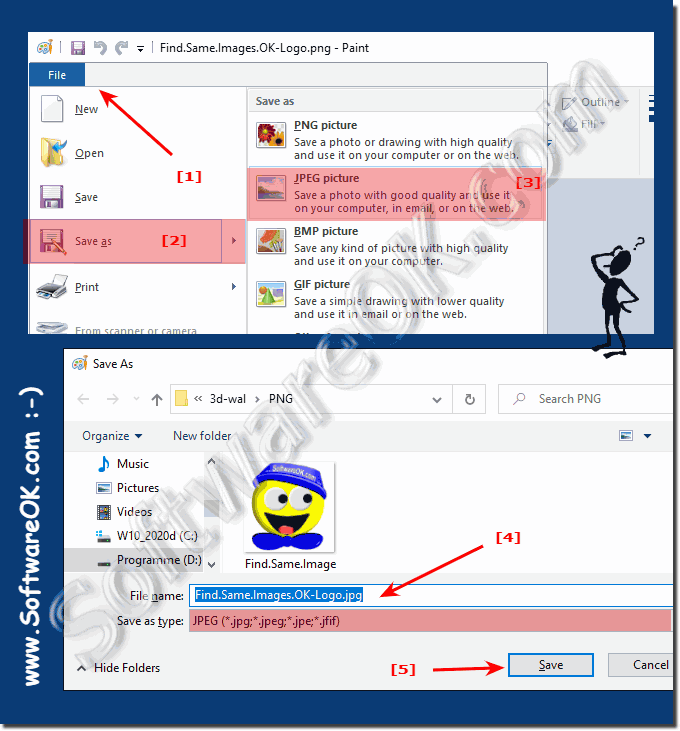 2.) Information about PNG and JPG files!
The PNG image file is a popular network graphic file,
which is a raster image. A raster file creates graphics bit by bit. The PNG uses lossless compression, which allows large files to be shrunk to smaller sizes without losing resolution. When a PNG is resized to its original size, the resolution remains the same.
The JPG image file is unusually small due to its size


a common file type. The JPG compression makes it a manageable size which also lowers the image quality. It is usually used when someone needs to upload or download a large number of images.




FAQ 56: Updated on: 14 May 2022 06:13