Here is an example of how to easily change certain file timestamps, suitable for all Windows operating systems! 
The user question:

 

Suppose I want all the files and folders in a particular directory (part) tree whose last-modified date is between 07/12/2017 17:53 and 12/12/2017 14:44 so change that to the last-modified and creation date respectively exactly 4 days, 8 hours and 12 minutes is added.


Answer:

 

1. For example, start the MS Explorer and open the respective folder.
2. Start the search eg F3 key and enter *.* Into the search field 
3. Sort the search result by date modified  
(... see Image-1 Point 1 & 2 )


4. Now you can easily select the data and drag and drop it to NewFileTime. 

And change that easily the Date Modified of the folder or files (... see Image-1 Point 3, 4, 5 & 6)

Please: ... use always the latest version of NewFileTime for Windows!  



(Image-1) Change timestamps for certain files and folders!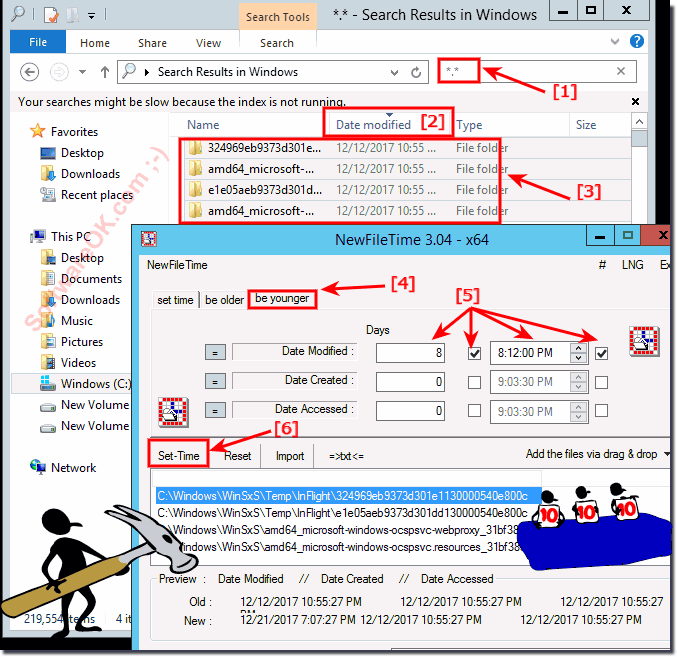 Info:

Sometimes you realize too late that the date of the camera was set incorrectly. If you want to display the photos of several cameras in the folder sorted, you have the salad. For some, the wrong year is set on the camera. So it was time to change the date of 1000 pictures. Surprisingly, this can be done easily and quickly under Windows with the on-board resources. If one now wants to Change the year of all pictures, you can proceed as follows. You mark all pictures taken on the same day. Now you can change the date in the detail view. In this case we only change the year. Enter. Finished. The year was changed for the marked images, the remaining time stamp was retained. This is repeated on a daily basis for all recordings. I find that sufficiently comfortable.



FAQ 9: Updated on: 8 October 2019 05:31