Yes, the timer shutdown also works with the current Windows 11 and Windows 10 from Microsoft (c) at a certain time, day or date!

With the timer you can shut down your PC at a certain time or put it to sleep and also restart the Windows PC. This makes your scheduled shutdown a lot easier and safer. When you assign the timer, the timer is minimized in the system tray and runs unattended in the background. If you click with the right mouse button on the symbol in the Windows task bar, you can always see the shutdown time, restart time, hibernation, ... in the window that appears. And cancel or change immediately with a single click of the mouse.


The timer shutdown with current Microsoft's Windows 11, 10, ... desktop and server OS!
1. Please start PreventTurnOff

2. Set the countdown / timer when the PC is to be shut down

3. Activate the timer

4. Prevent it from going to sleep beforehand

5. Minimize the program in the Info- Area of ​​the Windows taskbar

(... see Image-1 Point 1  to 4)


As you can see, it is really easy to ensure that the PC goes to sleep or is shut down at the time you want. This simple yet important task becomes a breeze at a specific time or even a specific day!




(Image-1) The timer shutdown in the current Microsoft Windows 10!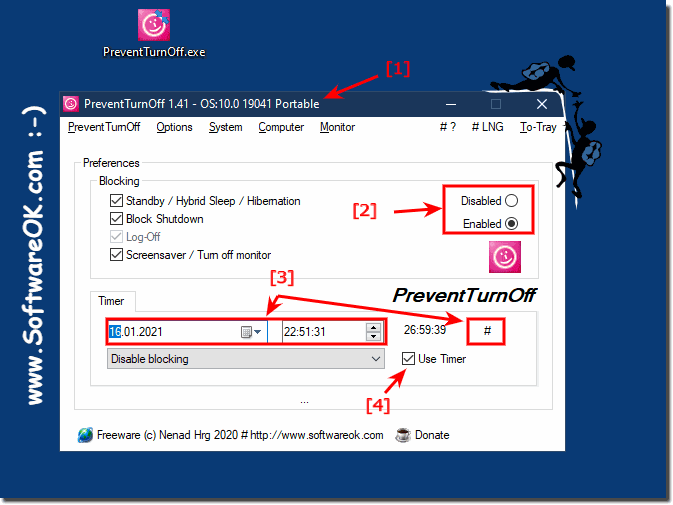 Info:

Sometimes it really makes sense to set the Windows computer so that it should shut down on a certain day. Especially if you copy a large amount of data from USB data carriers or to the external hard drive, for example. Just as handy for a large download that takes hours or even days. You don't have to worry about it anymore, the computer will shut down automatically when the time is up. Above all, this saves energy!


FAQ 3: Updated on: 11 September 2023 07:55