This is for technical reasons, so that Ctrl + Alt always open the selection (context) menu!

Why?
If you want direct execute: One command per Hotkey = direct execute  
The problem with Ctrl + Alt has been fixed as of 4.xx
, please use single commands and "send paste" keyboard shortcuts that are accepted by other programs. For example, several programs with pressed left mouse buttons refuse the Paste command. Except they release the left mouse button quite fast. Here you have to test a Little,
in selection menu such as the Windows Z
, it always works well!


Content:


1.) Problem Ctrl and Alt key!
Problem is Ctrl and Alt key! QuickTextPaste works as known via the Windows clipboard, and most programs do not respond, at the pressed Alt and / or Ctrl that as known used for functions such as Copy Ctrl + C, CTRL + V, and so on Alt key as a menu command, etc.

However, if you use one of the other three options (... see Image-1 Arrow-1) , and only 

one instruction per hotkey

, the  command will be executed without the context menu.




(Image-1) QuickTextPaste commands without context menu!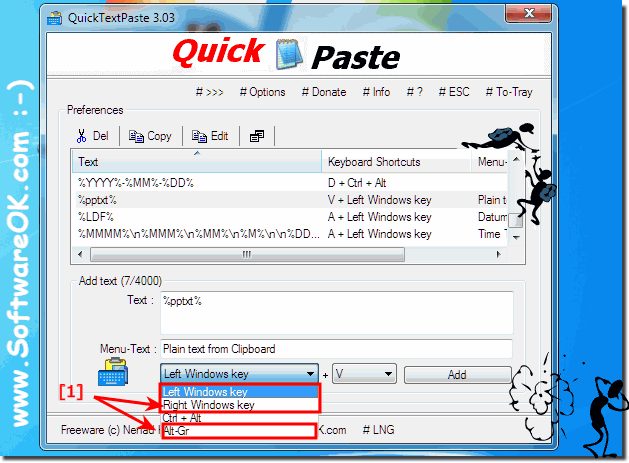 2.) Function keys Problem!
That's because function keys are themselves a key combination!

You can define/use different/other key combinations in QTP!

FAQ 14: Updated on: 19 September 2019 05:44