Yes it is no effort to test color printing in Windows 11, 10, ... or in other MS Windows Desktop and Server OS!



Content:





When developing the test page printing tool, I placed great value on the fact that this also includes a print in color test page so that the print quality can be inspected quickly in order to quickly identify any dust particles and incrustations on the printer head or the toner cartridges. With the new printers, even my old HP DeskJet, it worked. In order to perceive and fix the print quality through timely error detection, it was extensively tested on Windows 10 and compromised printers, as well as by users on other MS OS operating systems and printers who were enthusiastic about the tool were!





1.) To test the color printers I recommend test pages 3 and 5
( ... see image-1 points 1 and 2 )



(Image-1) Print color Test Page on all Printers!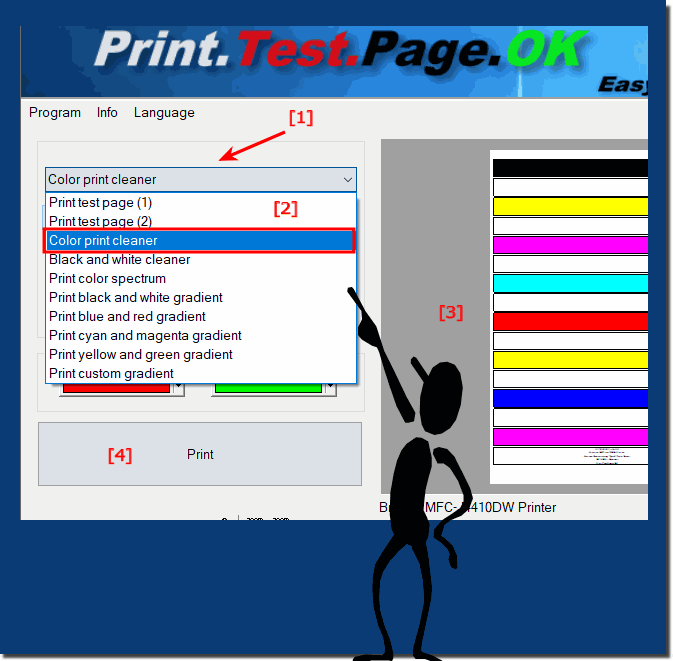 Info:

It does not matter whether you have a printer from HP, Brother, Samsung, Canon, Epson, or another manufacturer, because all manufacturers have different printers, it is an indirect improvement through the test page printout Follow-up printing because all colors are addressed!



2.) What needs to be considered in the color printer test! 





Printer test pages are used to check a number of things with your printer, to help with maintenance and troubleshooting ink cartridges on your printer or just as part of general maintenance with your printer. The printer test page is used to identify whether there are problems and errors with the connection, the printing engine and the printer cartridges. In addition, all colors are used with a color printer!




Printer test pages can also be used to maintain ink flow in your printer. If your printer is not used for a long period of time, the print heads may become blocked or the ink in and around the cartridge or printer may dry, causing clogging or inconsistent ink flow.

It is recommended that you periodically test your printer with a test page to ensure that it is working properly. This is especially important if you use the printer frequently or if you need to print important documents.

A printer test page is used to check the functionality and quality of a printer. Here are some of the main purposes of a printer test page :

Checking printer functionality : A test page ensures that the printer is working properly. If the printer prints the test page without problems, this is an indication that it is capable of printing documents and images.

Checking print quality : A printer test page often contains various elements that allow you to evaluate print quality. These can be text, lines, graphics and color fields. This will help you determine whether the printer reproduces colors correctly, whether the text is sharp and easy to read, and whether the images print at high quality.

Detection of clogs or errors : Printing a test page can also indicate possible clogs in the printheads or other errors. If the test page prints incompletely or with streaks, it could indicate a problem with the printer that needs to be resolved.

Comparison with reference images : Some test pages can also be compared with reference images to compare the printer's output to certain standards. This is helpful in determining whether the printer meets expectations in terms of color fidelity and sharpness.




Printing a test page provides an easy way to evaluate your printer's performance and identify any problems that need to be addressed to produce high-quality prints.

If the test page prints without errors, the printer is usually in good condition. If the test page has errors, it may indicate a problem with the printer,





FAQ 3: Updated on: 21 October 2023 16:20