If you have installed your new printer or have inserted new cartridges, it is very useful to print out test pages after installation!






With this independent test page printing tool, you can be sure that the printing mechanism of an inkjet printer, plotter, laser printer, ... is working properly. A possible error can also be identified immediately, especially if you have already printed out a test page.




Even if modern printers automatically print their own test pages after they have been set up or reconfigured, it is useful to use an independent test page printout tool to detect slightly shifted horizontal or vertical lines as well as faulty halftoning, faulty black-and-white gradients and faulty color gradients. Establish representation.


1. ►►  Download the independent test pages expressive tool

2. Select the

test page

  

3. Select the printer on which the

test pages expression

 is to take place

4. To start expression test page to, press the button

"Print"




PS:
Not only when you are setting up your printer, it can also be advantageous to perform this test page printout in between. Perhaps you are not satisfied with the typeface, graphics, colors, ... and would like to calibrate your printer. In this case, you should also print a test page.



(Image-1) An independent test page printout with this free tool!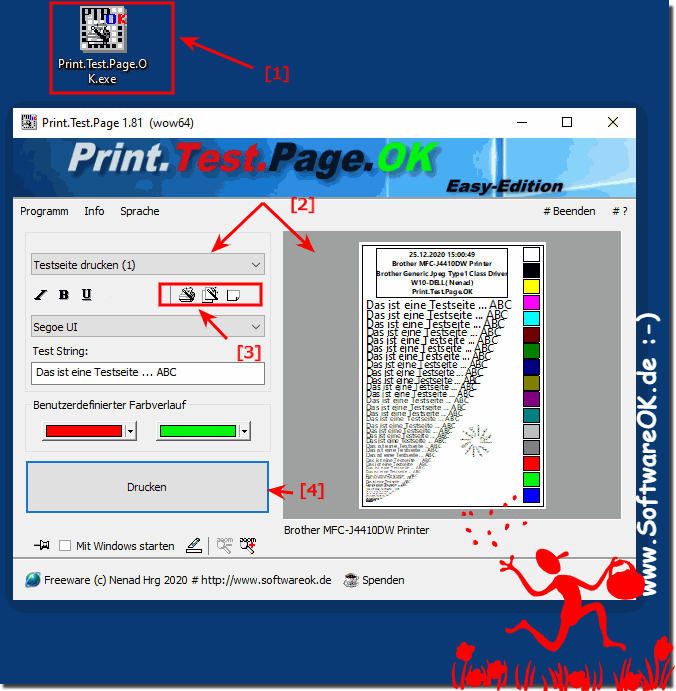 FAQ 5: Updated on: 4 September 2023 06:35