It's easier to handle Zip Compressed Folders in Quad Explorer on Windows 11, 10, ... to add, delete, or move new files, folders, ...!
Content:
1.) Zip folder in the clear Explorer window!
Open the Zip folder in one of the Q-Dir Explorer and use the other
2, 3, 4 Explorer
to manage or add data to the Zip folder!
(
... see Image-1
)
(Image-1) Zip folder in Quad Explorer easier to handle on Windows 11, 10, ...!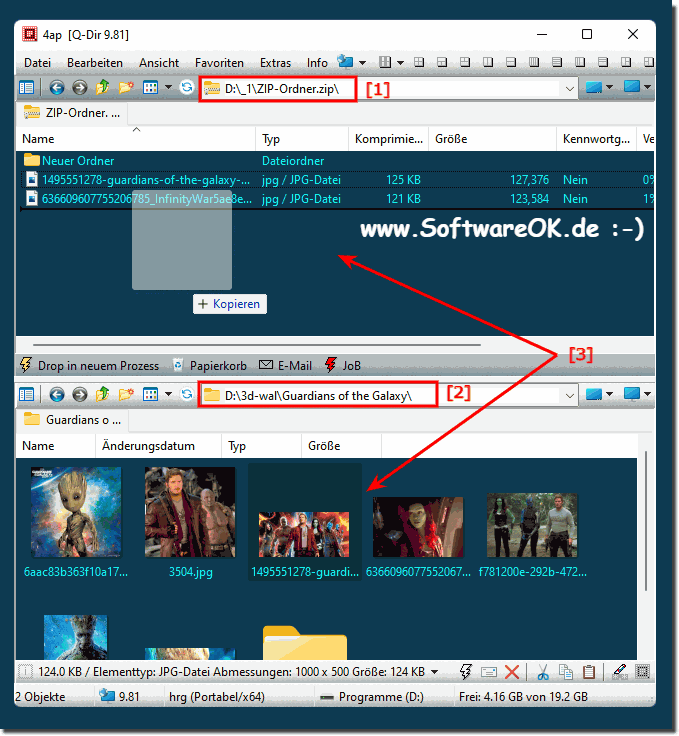 2.) Why zip folders in different windows as a solution?
It is available on all Windows 11, 10, etc., so stable window layout in file explorer windows is very convenient for moving and copying the data. This applies to all Windows folders, since the ZIP archive is to be treated exactly like a folder, which is very convenient on Windows, by the way. So that you can easily move data here without external programs and compress or decompress, unpack.
The advantages are obvious, you can even open 4 explorers and different explorer tabs in Quad Explorer, which makes compressing and decompressing the files very easy and enjoyable.