The solution is simple to enable or disable the auto expand of the windows system favorites at program start in Q-Dir  Explorer.


Content:



1.) System Favorites in Q-Dir!
Please enable or disable this feature in file-manager Q-Dir via:

Menu ► Extras ► Tree-View ► Expand the system favorites at program start (W7/8)

(... see Image-1 Arrow-1)

This favorites feature is available at Windows Vista,  7, 8, 8.1 (Q-Dir Version 5.87).
(Image-1) Expand the Windows System favorites at program start in Explorer Q-Dir!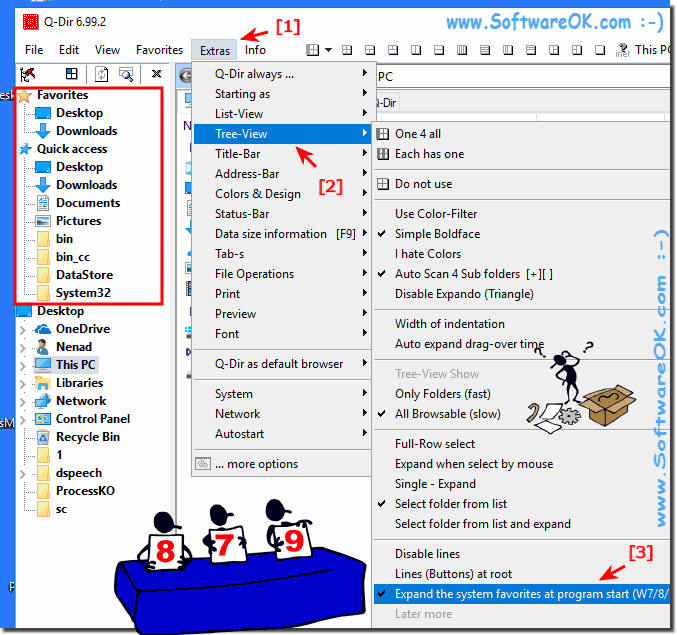 Info (c) Microsoft
A file is an item that contains information for example, text or images or music. When opened, a file can look very much like a text document or a picture that you might find on someone's desk or in a filing cabinet. On your computer, files are represented with icons; this makes it easy to recognize a type of file by looking at its icon.

A folder is a container you can use to store files in. If you had thousands of paper files on your desk, it would be nearly impossible to find any particular file when you needed it. That's why people often store paper files in folders inside a filing cabinet. On your computer, folders work the same way.

2.) System Quick Access from Windows 11 / 10 / 8.1!
(Image-2) Auto-Expand of the windows quick access system folder!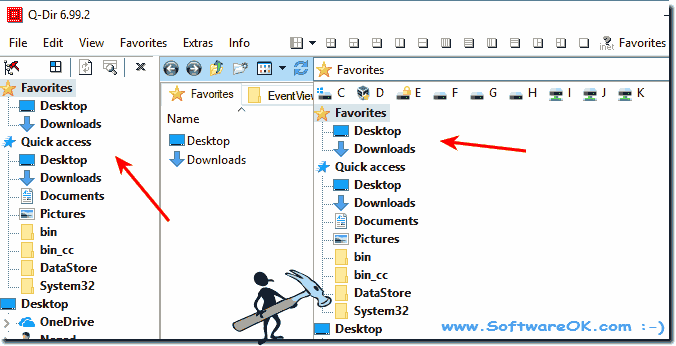 FAQ 96: Updated on: 4 July 2021 15:26