Due to lack of space, you can easily display only symbols in the favorites toolbar in Chrome, Edge, Firefox, ... Internet Browser!
Contents:
1.) Only symbols in the favorites / bookmarks!
With the keys
Ctrl + Shift + B
you can activate and deactivate the favorites bar in all Internet browsers if it is not activated! 
Follow the steps below to remove the page title from a bookmark.
1. Right-click on the bookmark.
2. Click
Edit Bookmark
  or Properties (Browser specific)
3. For the bookmark name, delete everything, and then click OK.
(
... see Image-1 Point 1 to 7
) 
Repeat these steps for each of your bookmarks. You can also rename the bookmark to a different name to organize or remember it. Now you have more space for your bookmarks, favorites, also called bookmarks!
(Image-1) Show only icons in favorites toolbar!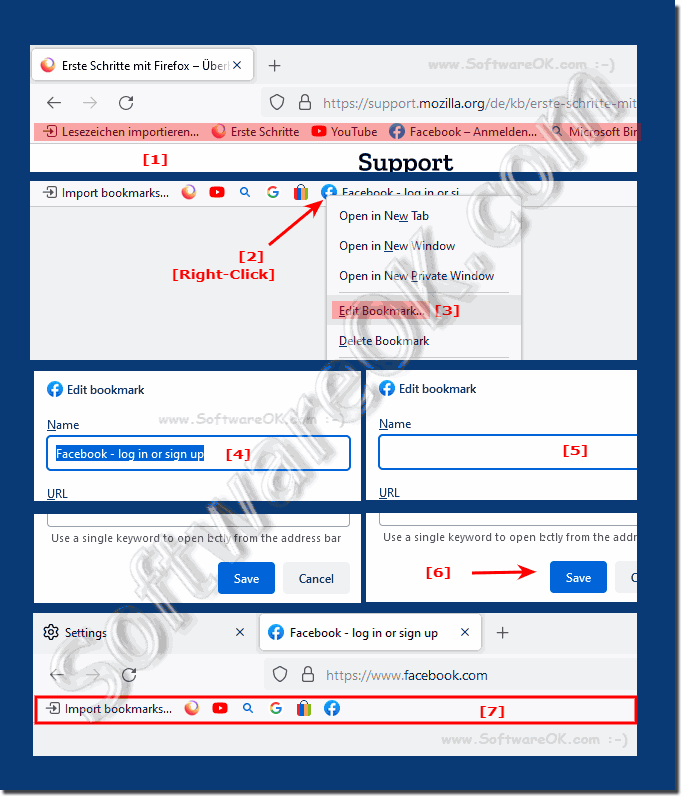 2.) More tips on favorites, bookmarks and Co.!
Info:

As described above, an easy way to save space in your internet browser's favorites or bookmarks bar is to remove the description of each bookmark. You can identify most of your bookmarks by their icon! If you have several different bookmarks that only show the favorites icons like in the image above, you can place many more bookmarks in the available sections to open your favorite page faster!