Although Windows can use various power-saving functions and even independently switch between several power profiles!
Info:
But in practice this is not always reliable. A remedy for this is
... the freeware AutoPowerOptionsOK
, is a  solution also for older versions of Microsoft's Windows 11, 10, ... etc. operating systems, whether it's a Windows desktop, tablet, Surface Pro / Go, or even a server operating system.
See also: ► 
detect my controller's inputs Xbox 360, and Joystick events?
(Image-1) Save electricity, save hardware, save money, save nature on all Windows!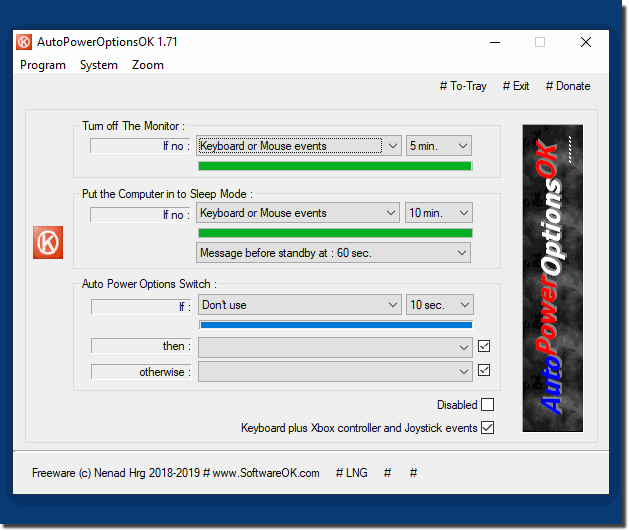 What is the
energy-saving mode
of importance and what is the use of it, if the energy options are optimally adapted? What does it mean to use the energy-saving mode? What advantages does he bring?

Info:
The "Save energy" option is displayed in the "
Shut down Windows dialog
" or in the menu of the power switch (under "Settings") if this feature is supported by the hardware. An administrative user can configure the Power Save option on the System Preferences page under Power Options in Control Panel. Or change keys in the registry, Saving electricity is important to relieve your own wallet. But also to protect the environment. This also applies to work on the computer. However, you can not just turn the PC on and off. And up and down driving always takes - depending on the operating system more or less - time. So it's worth taking a look at the power options for all computer owners. Because you can adjust the energy options with the right settings and save energy in the energy-saving mode properly.