The solution is very easy to enable -USB-Debugging Developer Mode-under Samsung Galaxy Android!




It's really not much effort to enable the Developer mode as a developer for apps, or even as a curious user at Samsung the developer mode and USB debugging to make some system changes on the Samsung smartphone, which are not intended, or self-developed APPs to test whether they work properly on the Android Smartpones like Samsung!




Content / Solutions / Tips:



1.) Activating the developer mode on the Samsung Galaxy on Android!
Now just click on
"About Phone"
, then on "Software Information " and 4 times
"Build Number"
Touch / Press / Touch! (
... see Image-1 Point 1 to 3
)
Then you are in developer mode and as a developer can develop apps for the Samsung and at the same time they test whether they work properly on the Samsung! 
(Image-1) Developer Mode Enable Samsung Galaxy Android!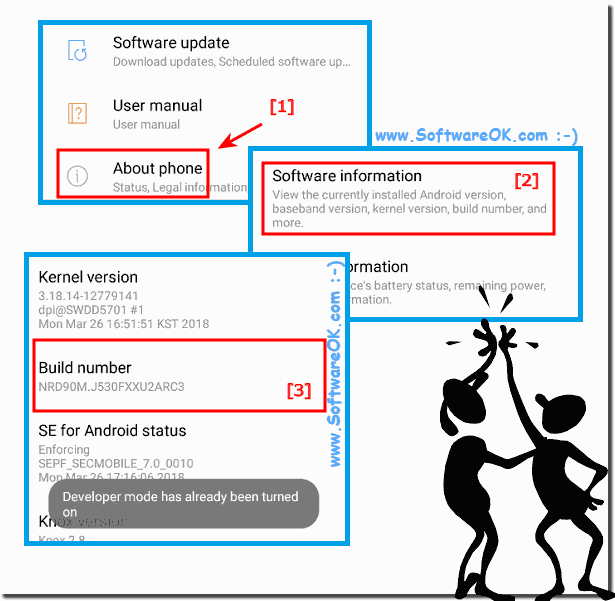 2.) Open / Enable USB Debugging in Developer Options!
(Image-2) USB Debugging Enable Samsung on Galaxy at Android!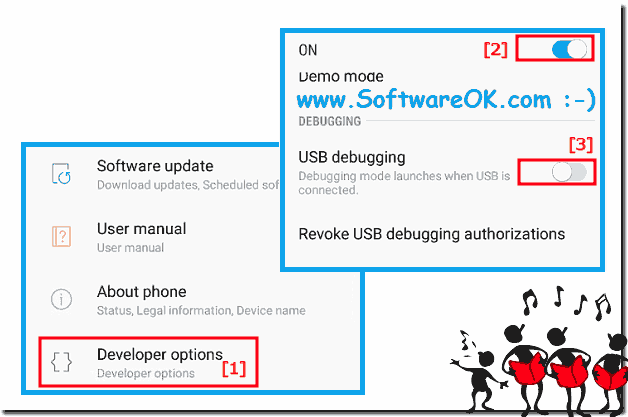 3.) What should I note in Android Developer Mode on the Samsung Galaxy?
You want to get rid of the developer options in the settings menu of your phone? Well, the sad truth is that the only sure way to do that is to reset Samsung. Fortunately, some phones can stop the additional developer options without completely resetting the phone. 
By deleting the settings data, the developer options for some Samsung Smartphones phones and Samsung tablets are removed.
If you have an Android OS phone, or the HTC One, developer options can be completely removed from your phone without having to reset it completely / completely. Galaxy S5 and LG G3 users, either have to live with the extra menu, or reset your phone.
FAQ 10: Updated on: 13 July 2018 06:49