Sometimes you want the screen to stay on and not go off in Windows 11 because you don't want your screen to turn off automatically!
You do not have to immediately access practical third-party tools such as 
DontSleep
 or 
Monitor Turn Off Timer
, even if they are elegant solutions, you can do it in a few simple steps -monitor goes off too quickly- Problem under Windows 11 in the twinkling of an eye!
1.) If the Windows 11 screen goes off too quickly!
1. Start the 
Windows 11 settings
 (
Windows + i
)
2. Go to ► 
system
3. Scroll to the right to ► 
Power
4. Switch the
screen and sleep
6. And you determine when the Windows 11 Screen should go off or never!
(
... see Image-1 Point 1  to 7
)
PS:
If your PC goes into automatic sleep mode, the screen also switches off, which is also logical, because no image signal is sent when Windows 11 is in the Idle mode changes. You can also set at this point when your Windows PC goes to sleep. (Point 7)
(Image-1) Prevent Windows 11 from turning off your screen!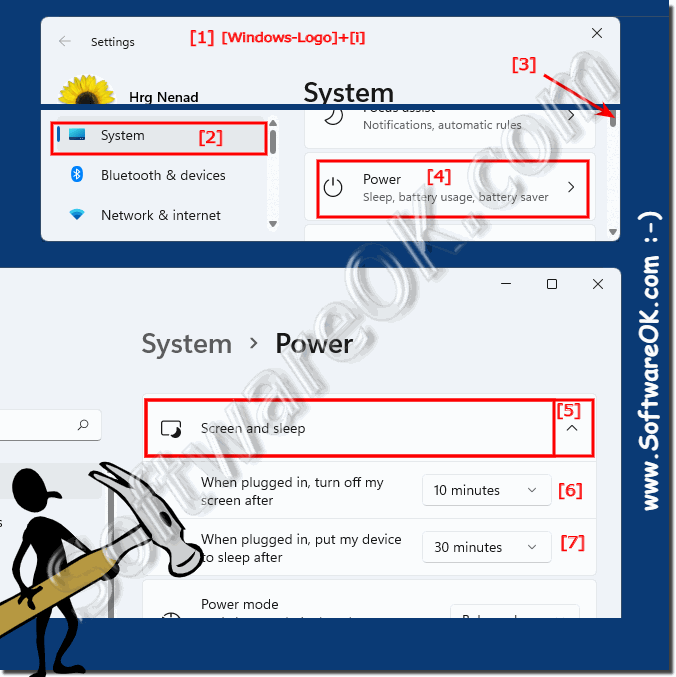 2.) What should I consider and other related tips!
As you can see, it is possible to completely prevent the screen from turning off, you can select various settings, please note that if your PC / laptop is running on battery power and it is not connected to a power source, the battery life will be reduced!
For best results, you should only leave the screen switched on when it is connected. If you do this on battery power, the battery will run out quickly.