Restarting Windows 11, 10, ... etc. (all OS), services is quite easy to open, just start the Services Management tool!
The Windows Utilities are so-called
background
programs which are very important and generally reliable, however sometimes restarting Windows Utilities is required, such as when the
printer service
needs to be stopped because of the printer queue!
1.) Finding or starting the service administration tool!
You can open the services on all Microsoft Windows systems via the Run dialog

1. (Key combination [Windows + R] )

2. Entering the services.msc command  starts the services management application.

3. Mark the service to be started

4. Initiate a restart with a right click or Restart Button 

(... see Image-1 Point 1 to 3) 





(Image-1) How to restart Windows services!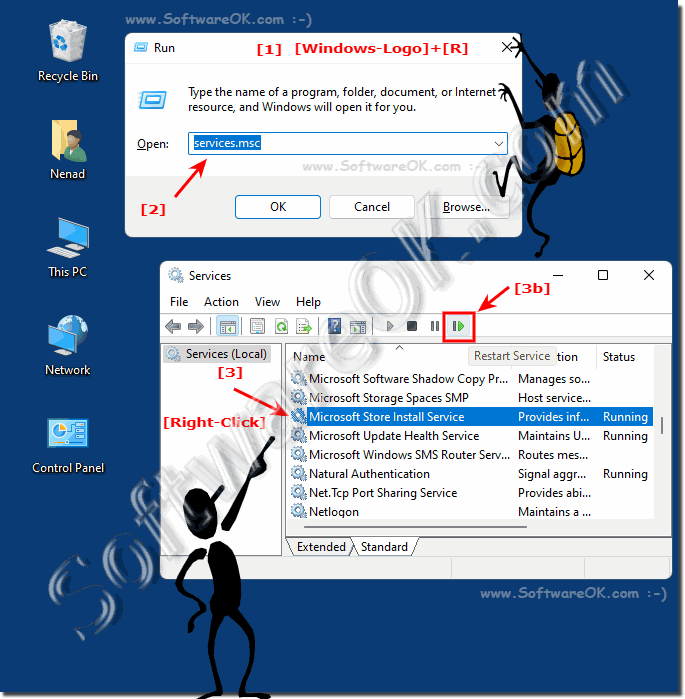 ►
Das Neustarten von Windows Dienstprogrammen
ist jetzt selbsterklärend
Die Bilder für dieses Beispiel sind unter Windows 10 entstanden, funktionieren aber auf allen Windows und Windows Server Systemen, denn hier hat sich unter Microsoft Windows Systemen seit 18 Jahren nichts geändert.
Tipp: Optional können Sie auch die
Windows-Systemsteuerung
 öffnen. Doppelklicken Sie auf das
Verwaltung
 Symbol. Danach ein
Doppelklicken
auf das Symbol
Dienste
. 

2.) Weitere Informationen die man beachten sollte bei Dienstprogrammen!
You must be a member of the Administrators group  , or have an account with appropriate privileges to run Utilities Restart on Microsoft Windows systems, or have been assigned the appropriate privileges, or have an Administrator password. For security reasons, you should restart utilities using required skills.

 

In English, these are referred to as Windows Services.

By the way! The

service

command is also the command line command for starting and stopping services on Linux.



FAQ 111: Updated on: 27 July 2022 11:26