With all Microsoft Windows systems it is very easy to find, open and change the Windows start-up settings!



For example, if you have Windows 11, 10 Pro, Enterprise, Home, Windows 8.1, Windows 8, Windows-Server 2019, 2016, 2012, Windows 7 Basic, Professional, Starter, Ultimate or even older systems like Windows XP/Server 2000, you only need to remember the term msconfig (Microsoft Configuration).

With an elegant manipulation that can be carried out with the left hand, namely the Windows+R key combination and the msconfig command just mentioned , you have already reached your goal and can edit, change, adapt, or simply put, the start settings of Windows , Configure Microsoft Windows.

See (... see Image-1 Point 1 to 3)


Safe or Custom Debug Start in all MS Windows OS! 


The possibility of being able to start Windows securely is very practical . In the secure Windows start, the operating system is started with minimal or urgently required items when the Windows system starts. As well as with a minimal graphical start user interface from Microsoft Windows, as well as the Windows Explorer. Likewise, only important system services are started or executed that are required to search for any errors or driver problems. It should be noted here that the network is deactivated, so WiFi printer or scanner device problems cannot be dealt with.
 


(Image-1) Find MS Windows OS startup settings!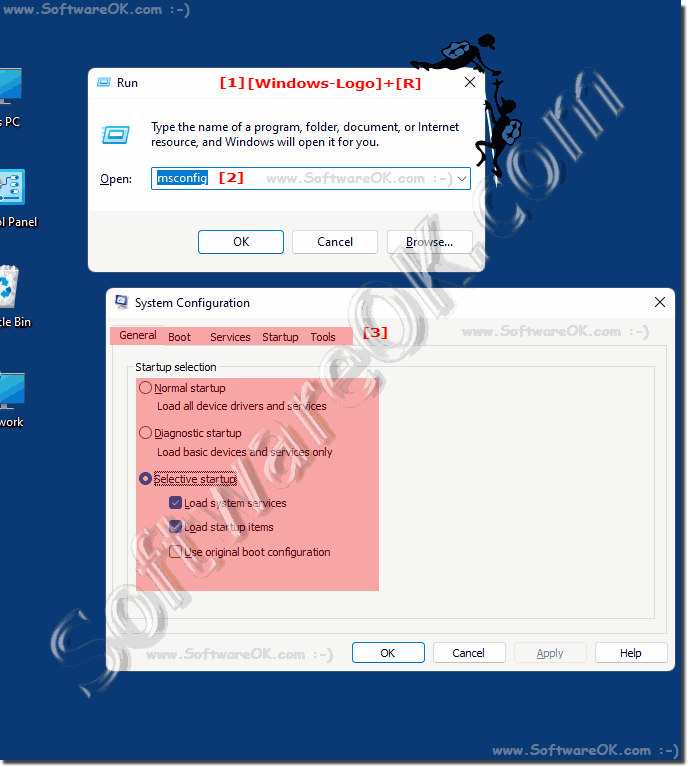 FAQ 115: Updated on: 27 July 2022 14:15