One can quite easily the debugging mode under MS Windows 11, 10, ... 
activate or start in Safe Mode!

The debugging mode is intended for troubleshooting and system optimization on the Windows computer and is more for experienced Windows 11 and 10 users, even if this example was made on a Windows 11/10 desktop PC, you can use it under other Microsoft Windows 10/11 systems, no matter whether it's a Windows desktop, tablet, Surface Pro / Go, or even a server operating system.


Here in just eight steps to debugging mode in Windows 10 and Windows 11!
Step 2: Choose Update and Recovery.
Step 3: Select "Recovery" and click on "Restart now" under Advanced startup.
(
... see Image-1 Point 1 to 3
)
►► Attention !!!! 

If Windows 10, 11 cannot start! 
and you can not access the Windows user interface, then when the computer 
starts press 
the 
[F8]
 key or 
[Shift] + [F8]
  for notebooks, laptops, MS Surface, ... possibly the function 
key 
mostly blue with "Fn"
and then simply with Step 3 carry on!
(Image-1) Easy Activate debugging mode on Windows 10!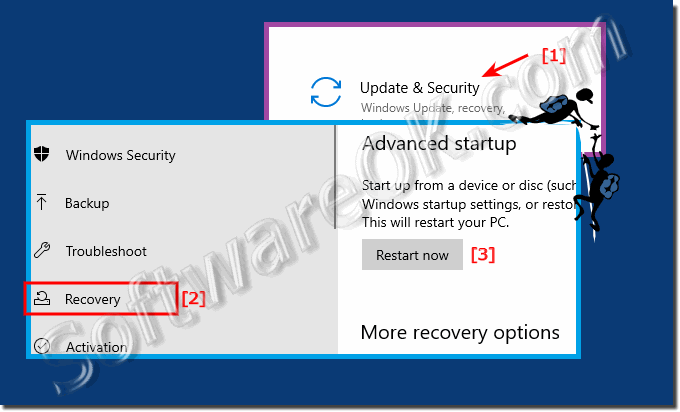 Info:
The extended start under Windows 10 is something like
the Secure Windows Start
.
It is very practical 
 to be able to start Windows securely ; in the secured Windows start, the operating system is started with minimal or absolutely necessary when Windows starts.
As well as with a graphical minimal start user interface from Microsoft Windows and Windows Explorer. 



Step 4: Select
"Troubleshoot"
to continue.
Step 5: Open the
"Advanced options"
.
Step 6: Enter the
"Startup settings"
.
(
... see image-2 points 1, 2 and 3
)
(Image-2) Troubleshooting - start setting debugging mode under Windows 10!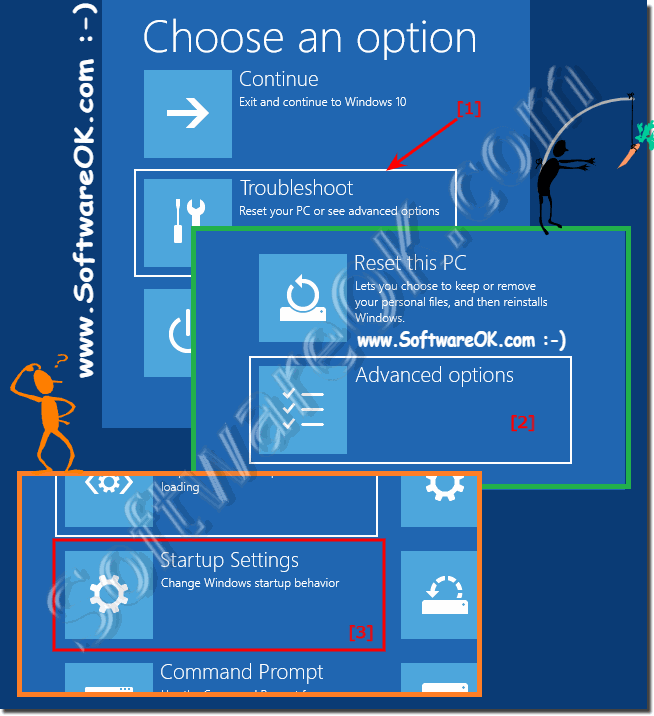 Step 7: Click on Restart. (
... see Image-3
)
(Image-3) Activate debugging mode on Windows 10 at Startup Settings!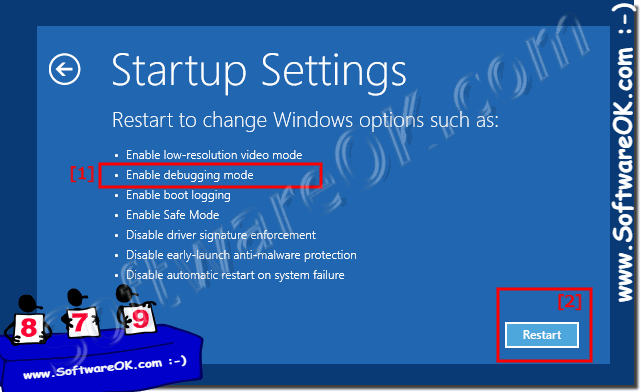 Step 8: Press 1 or F1 to select Enable Debugging.

(... see Image-4)


(Image-4) Enable debugging mode for Windows 10!