Yes, Regedit.exe or the Windows Registry Editor also accepts some program commands or program arguments (command line)




 

Content:



1.) The Regedit.exe program commands!  
regedit.exe -m
opens another window of the registry editor, or several instances of the regedit, very suitable for comparing some Windows registry keys
regedit.exe -v
These program arguments open regedit.exe in advanced mode, with the registry being displayed in a tree structure.
regedit.exe -s
If these program commands are used, the information dialog boxes that would normally be displayed are suppressed.
Here is the example for  regedit.exe -m Really very useful :-) 

(... see Image-1 Point 1 to 6) 





(Image-1) Regedit.exe program commands or arguments on Windows 11, 10, ...!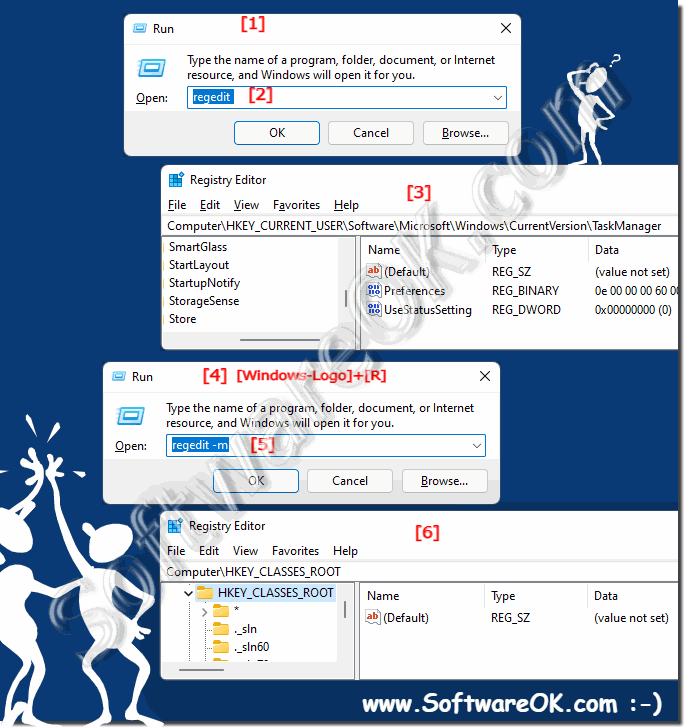 2.) Further information and tips on Regedit on MS Windows OS!

The Registry Editor is one of the most popular tools not only on current MS Windows 11 and 10 desktop OS but on all other Microsoft Windows desktop and server operating systems. Here are more Registry Editor links/tips that may be more or less helpful to you!





FAQ 78: Updated on: 5 July 2022 16:05